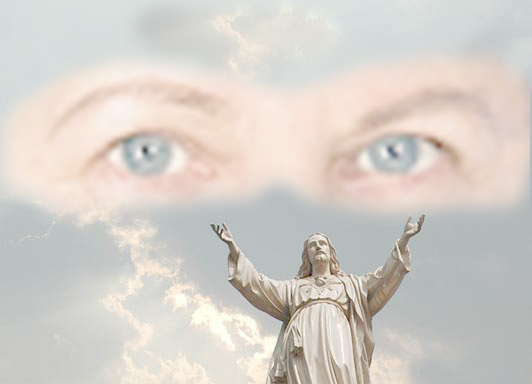 SAI RAM, dear friends
the office of SHIVA SHANTI SOCIETY REGISTERED
would like you to participate
in this DIVINE EXPERIENCE
Ulrich Breuser has written today:
Sai Ram, dear Shri Mataji Mahadev Meena Ma Shiva.
This morning I woke up and felt the need to portray
my first Darshan which I experienced some years ago
at the Temple of Love in Hofheim.
The room was filled with the vibrations of love
and many emotions emerged from the visitors.
When it was my turn,
I knelt down in front of the Holy Mother
and I was blessed to look into
Shri Mataji Mahadev Meena Ma Shiva`s eyes
for an eternity (in reality it was a few minutes!) .....
Suddenly I was astonished
I flinched slightly as I noticed
I was looking into the countenance of
JESUS CHRIST !
It took me some seconds to catch myself
and I almost could not believe
what I was blessed to see
in the sacred eyes of the mother.
The mother continued with the cleaning and opening of my heart.
With a little letter of Vibhuti
I went back to my accommodation
and cried in silence
with happiness and not grasping
what I had just been blessed to experience.
I am bowing down to the holy feet
of Shri Mataji Mahadev Meena Ma Shiva,
Shri Jesus Christ,
Shri Sathya Sai Baba
and Shri Vishnu.
Om Shri Sai Ram
Om Shri Sai SAI RAM
Dear Ulrich and all Dear Ones,
Nothing - really Nothing -
is being lost with the DIVINE -
thus also the IDENTITY
of MY DEAREST HUSBAND
JESUS CHRIST
and MATAJI MEENA MA SHIVA
Many years back already GOD granted you,
dear Ulrich, the deep DIVING INTO
the ONENESS of JESUS and MYSELF ...
I want to let you participate
in the END - PHASE
before the GREAT REUNION
with MY DEAREST HUSBAND
JESUS CHRIST
will be ANNOUNCED
in this WORLD
Since almost now four years
I am more or less bound onto bed
and not being able
to shower DARSHAN - officially
I have given MY S-A-I-N / BEING
for RESCUING GOD´S CREATION
and for the PREPARATION
of the TRANSFORMATION in this WORLD ...
Under most dramatic circumstances
it is the parallel to
MY DEAREST HUSBAND´S -
JESUS CHRIST´S CRUCIFIXION ...
Your Holy Experience, dear Ulrich,
has also to do with the END of
MY CRUCIFIXION ...
and with MY VISION
two nights back -
the STONE of JESUS CHRIST´S TOMB
has been lifted
by GODLY HELPERS
towards the side of MY Bed -
JESUS´ DEATH - and MY DEATH
RESURRECTED from the DEAD
on the THIRD DAY ...
RESURRECTION is now NEAR to the WORLD ...
Remember one of MY last MESSAGES :
" YOU KEEP YOUR CHILD - YOU CARRY IT OUT ..."
JESUS CHRIST speaks :
" MY DEAREST WIFE
THINK OF MY EYES -
WHICH LOOKED THROUGH YOU -
TOWARDS HUMAN BEINGS ... "
With LOVE
MATAJI MAHADEV MEENA MA SHIVA
Comments :
Namaste Ma
Om Sai ram
Om namah Shivaya
R.D.N.
India
Sai Ram -
Dear Shri Mataji Mahadev Meena Ma Shiva,
May your suffering and the suffering of the world
and of all the worlds end soon .
Thanks for your BEING - for your being SAI
And thank you that GOD has led me to you.
When Swami went to heaven at Easter,
I was sick myself and in a rehab center
As I could not visit Sathya Sai Baba in the year 2011
any longer He led me to You.
In respect and reverence
I am now writing these lines
In love and attachment I say again
Thank You with all my heart
May the Light of Love fill more and more hearts
And turn the earth into a holy place.
Om Namah Shivaya
U.B.
Germany
Sai Ram - THANK YOU THANK YOU THANK YOU
https://www.youtube.com/watch?v=FlQb04Q3sFE
I keep Feeling your Love in me ...By "Seema Pokhrel"
youtube.com
https://www.youtube.com/watch?v=ySNdalfog9Q
Beautiful English Song - "Divine Mother Sai Maa"
youtube.com
U.B.
Germany

DEAR DIVINE MOTHER,
YOUR MESSAGE MAKES ME HAPPY,
AT LAST YOU WILL BE FREE
AT LAST YOU WILL BE ONE
WITH YOUR BELOVED HUSBAND JESUS CHRIST -
AND THE GOLDEN AGE CAN BEGIN !
I LOVE YOU AND I AM FULL OF JOY !
THANK YOU SOOOOO MUCH DEAR MOTHER
THANK YOU JESUS CHRIST,
THANK YOU DEAR SAI BABA,
THANK YOU DEAR GOD FATHER ,
MY ARMS ARE WIDE OPEN FOR YOU
TO EMBRACE YOU
IN DIVINE, INFINITE LOVE !
M .C.
Romania
SHRI MATAJI MAHADEV MEENA MA SHIVA REPLIES:
DEAR M.
THANK YOU FOR YOUR WORDS OF JOY -
THE CARRYING - WHICH I HAVE TAKEN ONTO MYSELF AS A SACRIFICE
FOR THE BENEFIT OF MANKIND - TAKES TIME ...
THE "CARRYING OF THE SINS OF THE WORLD" -
ONLY LATER ON HUMAN BEINGS WILL BE ABLE TO UNDERSTAND -
GOD CARRIES THE L A M B OF S A C R I F I C E -
SALVATION AND RESURRECTION WILL BE SOON
MUCH LOVE
MATAJI MAHADEV MEENA MA SHIVA