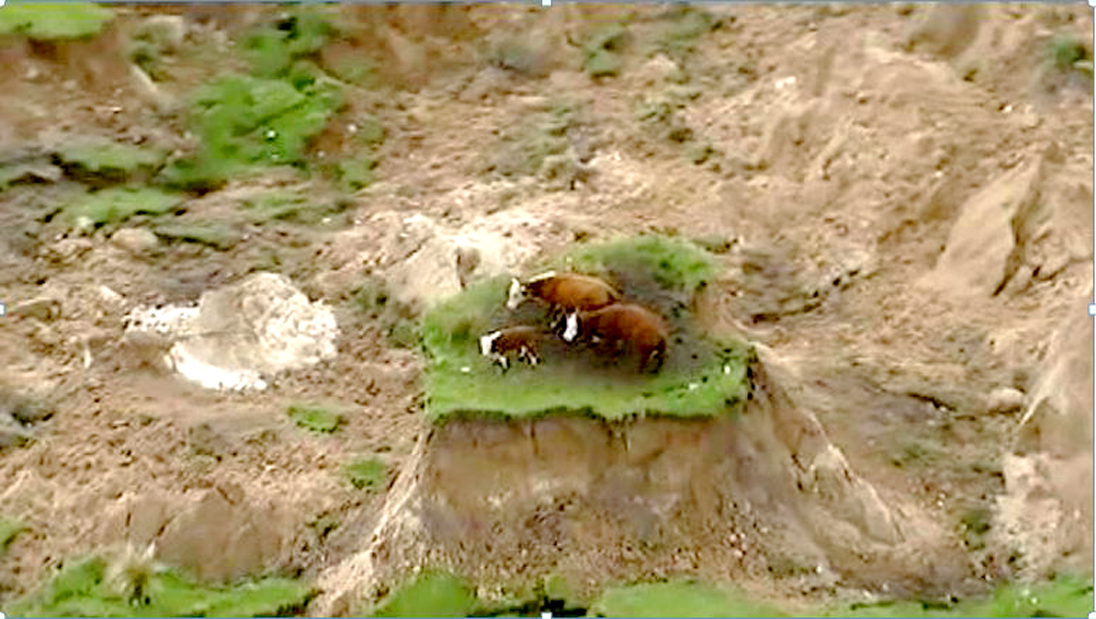 How often I already spoke about :
Who is thinking really during environment - catastrophes
how many ANIMALS are coming to DEATH ?
How many ANIMALS daily
under most brutal circumstances are being SLAUGHTERED ?
And now during this very strong Earth-quake
in New-Zealand the following happened :
a whole pasture became devastated -
and broke away ...
Only two MOTHER - COWS with their COWS
could be rescued today -
from this GODLY HEART -
the SYMBOL that GOD manifested !
The FUTURE will be -
BOVINE COWS and ALL ANIMALS
will have the SAME, IDENTICAL VALUE
as HUMAN BEINGS !
There will be NO SEPARATION any more
there will be no MEAT - FACTORIES any more
There will be only LOVE existing in EXCHANGE
from HUMAN BEING towards ANIMAL -
from ANIMAL towards HUMAN BEING
GOD´S CREATION of LOVE - ALL - EMBRACING
THAT will be the GOAL
the GREAT NEW FUNDAMENT
in the coming GODLY MISSION
With LOVE
Mataji Mahadev Meena Ma Shiva
Comments :
Maa.....
💗 Thank u for your Great HUMAN being 💗
K.A.N.R.
India

DIVINE LOVE SAVES EVERYTHING
EXISTING IN LOVE !
HALLELUJA!
M.C.
Romania
NAMASTE! THANK YOU VERY MUCH!
M.M.
Romania
Love ❤ SHRI MATAJI MEENA MA
C.C.
OM SHRI SAI RAM
USA

OM SHRI SAI RAM
U.B.
Germany
SHRI MATAJI MEENA MA REPLIES :
THANK YOU TO HAVE LET THIS PASSIONATE DIVINE MESSAGE
INTO YOUR HEART
LOVE AND BLESSINGS
MATAJI MAHADEV SHIVA
DEAR ONES -
I PROMISE YOU I WILL GIVE ANIMALS A VOICE
AND MAKE EACH ONE UNDERSTAND
THE VALUE OF THE ANIMALS -
TOO LONG ANIMALS HAVE SUFFERED ...
THINK OF THE MOTHER COWS -
BEING MADE PREGNANT IN AN ARTIFICIAL WAY -
NOT IN THE NATURAL WAY -
NOT ALLOWING A PAUSE IN BETWEEN -
IN WHAT SITUATIONS MANY HUMAN BEINGS
HAVE BROUGHT THEM - DAY BY DAY -
MORNING AND EVENING GIVING MILK ...
THE MILK NOT TAKEN BY LOVING HANDS OF HUMAN BEINGS - BUT FROM MACHINES ...
MANY OF THE MOTHER COWS
ARE WORKING EVEN HARDER THAN HUMAN BEINGS ...
SO MUCH HAS TO BE CHANGED
FOR THE BETTER TO COME -
MY LOVE AND MY BLESSINGS
MATAJI MAHADEV MEENA MA SHIVA