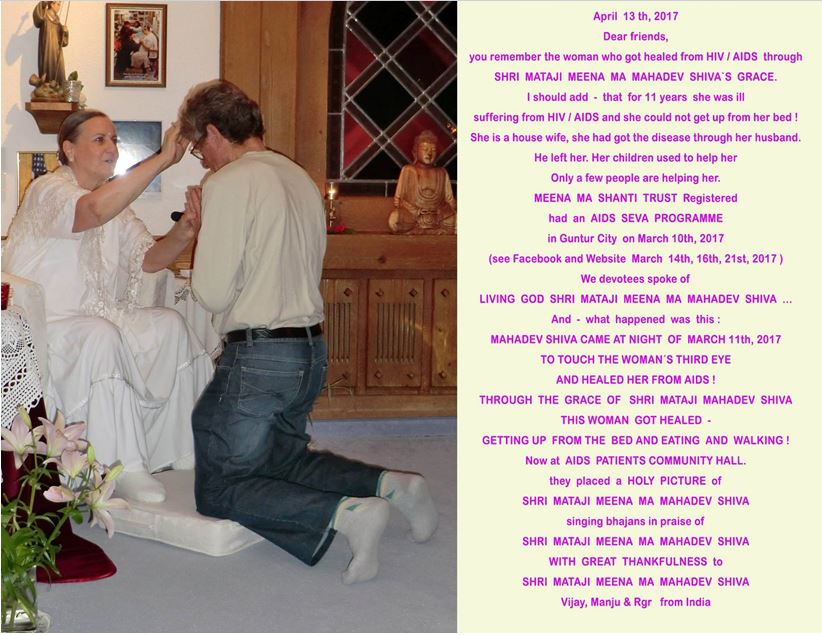 JAY SHREE MATAJI MEENA MA MAHADEV SHIVA's Miracle in INDIA -
from Vijay, Manju & Rgr, INDIA

Dear friends,
you remember the woman who got healed from HIV/AIDS through
SHRI MATAJI MEENA MA MAHADEV SHIVA`S GRACE.
We should add - that for 11 years she was ill
suffering from HIV/AIDS and she could not get up from her bed.
She is a house wife, she had got the disease through her husband.
He left her. Her children used to help her
Only a few people are helping her.
MEENA MA SHANTI TRUST Registered
had an AIDS SEVA PROGRAMME
in Guntur City on March 10th, 2017
(see Facebook and Website March 14th and 21st , 2017 )
We devotees speak of
LIVING GOD SHRI MATAJI MEENA MA MAHADEV SHIVA ...
And - what happened is this :
MAHADEV SHIVA COMES AT NIGHT OF March 11th
TO TOUCH THE WOMAN´S THIRD EYE
AND HEALS HER FROM AIDS !

THROUGH THE GRACE OF SHRI MATAJI MAHADEV SHIVA
THIS WOMAN GOT HEALED -
GETTING UP FROM THE BED AND EATING AND WALKING !
Now at AIDS PATIENTS COMMUNITY HALL.
they placed a HOLY PICTURE of
SHRI MATAJI MEENA MA MAHADEV SHIVA
singing bhajans in praise of
SHRI MATAJI MEENA MA MAHADEV SHIVA
WITH GREAT THANKFULNESS to
SHRI MATAJI MEENA MA MAHADEV SHIVA
Vijay Manju Rrg from India