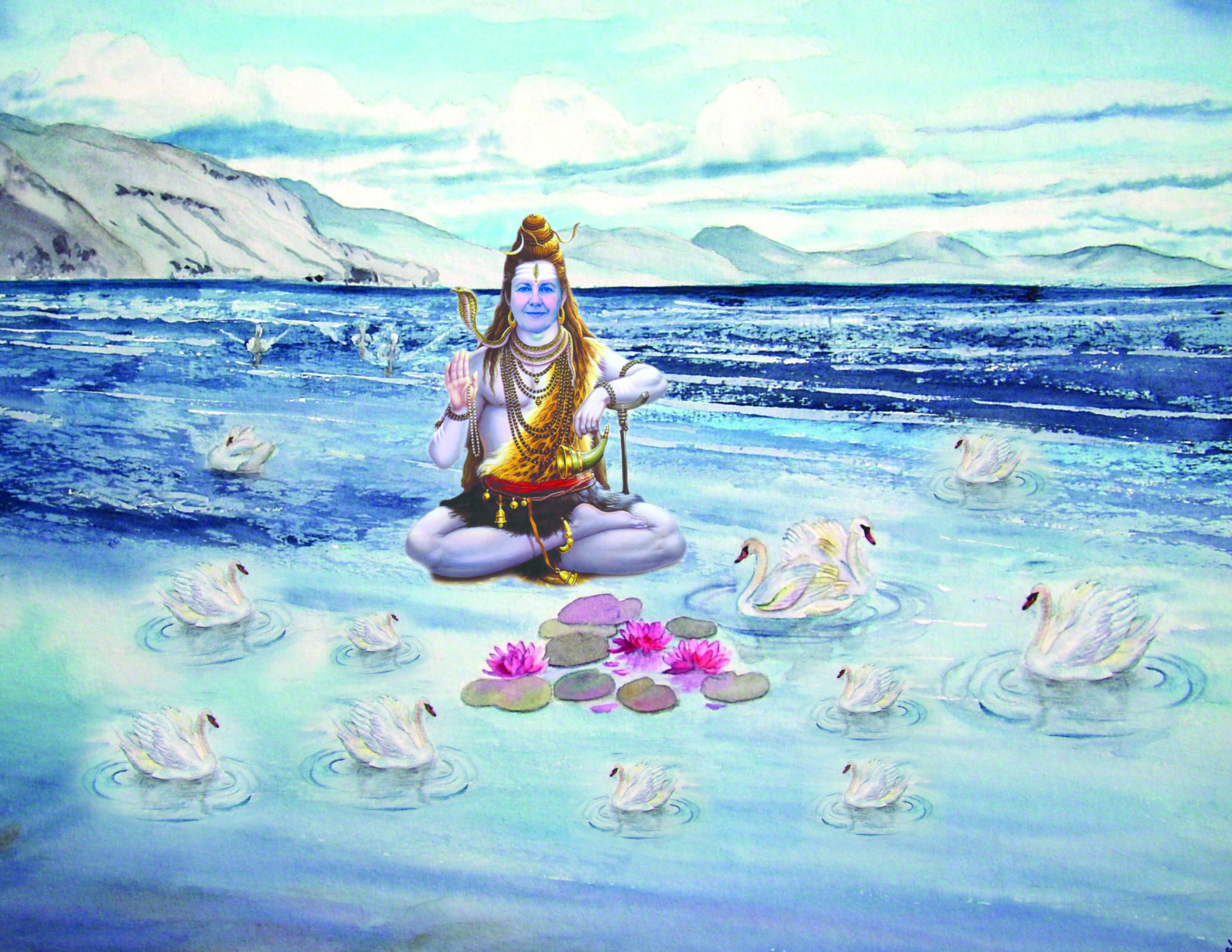 SHIVA SHANTI SOCIETY Registered
WANTS TO REMIND YOU
JAY MAHADEV
Mataji`s Soul:
Mataji's Soul is very senior Soul.
We can not judge and measure Matajis Soul.
I am a human but I got spiritual Attachment with Lord Shiva.
Shiva says His Soul is in Mataji
It is tough to understand cosmic context on Mataji.
Our bodies may be different,
but the soul, atma, is what we all have in common.
Atma means the self or the soul.
This is what we really are—the spiritual spark inside
our body—as distinct from what we mistakenly think we are—
our body and mind.
HOWEVER MATAJI IS A HUMAN BODY AND SHIVA´S SOUL
Very Few people know the reason of this.
This is like ATHMA (Individual Spirit)
and PARAMATHMA (MAHA Spirit - Superordinated Spirit)
JAY MAHADEV
Mataji Words - and Human Desires
Desire is infinite. Its fulfillment is very limited.
There is no end to our desires;
but when we go to fulfill them, the difficulty comes.
It is so with simple minds with simple desires. Even those could not always be accomplished. Now, with our arts and sciences improved and multiplied, our desires cannot be fulfilled either.
Human beings are struggling to perfect means for the fulfillment of desires, and the desires are increasing.
Mataji spreads HER words through HER Books, Speeches and Darshan.
HER WORDS ARE PRECIOUS. PURITY IS BEING HAILING IN HER WORDS.
BECAUSE OF THE HUMAN DESIRES MANY PEOPLE ARE NOT REACHING GOD EVERYWHERE ON THE GLOBE.
BUT A DAY WILL COME. PEOPLE WILL CRY FOR THEIR SINS.
MATAJI IS LIVING GOD.
IT IS REALLY HUMAN FOOLISHNESS COULD NOT SEE THE LOTUS IN SHRI MATAJI
WHENEVER YOU MEET MATAJI SHIVA YOU MUST GIVE HER A LOTUS FLOWER AND AS VERY NEXT STEP YOU SHOULD BEG FOR TAKING PADANAMASKAR.
MATAJI IS HOLY LOTUS.
The Purity of Lotus can help you to cleanse human beings and relieve the bad habits of humans.
If People praise Mataji - get nityaananda (endless happiness).
JAY MAHADEV
Shiva incarnation
Who is Mataji ?
Many stories and legends surround this most prominent figure of
spiritual traditions. Is she a God?
Or a myth constructed from Hindu culture's collective imagination?
Or is there a deeper meaning to Shiva in Mataji revealed only to those who seek?
When we say "Shiva," there are two fundamental aspects that we are referring to.
The word "Shiva" means literally, "that which is not."
The End of Kaliyuga is the most fortunate of all ages as it is in this age that the Lord has chosen to incarnate. The first incarnation was Meena Ma, the second, Mataji ; and the third, Mataji Shiva.
The subject of reincarnation, however, is often a topic of great mystery, controversy, and disbelief.
My words make a humble attempt to present a few facts that prove beyond doubt that MATAJI MEENA MA IS THE REINCARNATION of SHIVA.
I am not a person to tell each and everything about Shiva.
My knowledge is very small.
Shiva is in Kailasa which is his residence, but HIS / HER soul is incarnated in human body living in Germany.
*Additional Note of some residents at SHIVA SHANTI ASHRAM
in Germany :
IN THIS LIFE SHRI SWAMI SATHYA SAI BABA WILL BE UNITED WITH
HIS SON SHRI SWAMI JESUS CHRIST and SHRI MATAJI MAHADEV SHIVA AND SHRI MATAJ VISHNU -
THEIR GODLY MISSION IN THIS WORLD
WILL START FROM GERMANY
AND WILL LEAD INTO FULLFILLMENT
AGHORI:
Now SHIVA is sucking all the bad vibrations and black energies through Mataji.
A spiritual man can understand these process
Since some years Mataji is sucking all the bad vibrations and black energies.
*Additional Note :
SINCE FIVE YEARS SHRI MATAJI MEENA MA MAHADEV SHIVA -
DAY AND NIGHT - IS SUCKING THE POISON OF HUMAN BEINGS
IN THIS WORLD - SHIVA IS BOUND ONTO BED - CARRYING THE STIGMA FOR THE WORLD ...
TO LISTEN TO SHIVA´S SUFFOCATING PROCESSES
OF HER LUNGS - UNBEARABLE ...
SHRI MATAJI MAHADEV SHIVA IS IN STEADY COMMUNICATION
WITH HER BELOVED FATHER SAI BABA AND
HER BELOVED HUSBAND JESUS CHRIST
AND MANY MANY HELPERS FROM THE COSMOS ...
AND VERY OFTEN LEAVES HIS / HER PHYSICAL BODY -
TO WORK IN COSMOS FOR THE ENTIRE DIVINE CREATION
AGHORI :
Sometimes Her soul is flying out of Her body and again reaching to body.
Whenever Mataji comes out of the room where She had transformed bad energies of the human beings the holy Angels help cleaning the room and removing the bad energies.
JAY MAHADEV
A BIRD
A little bird is observing these process.
Bird is an angel of SHIVA. MATAJI soul and the bird are flying together.
MATAJI´S BODY HAS ALL ATTRIBUTES OF SHIVA
SHE is suffering VERY MUCH - and all of you should help and support HER !
Believe me. The Shiva Power is very strong
Now. Some people are anxiously waiting to pull down Mataji
They are staying surrounding Mataji right now.
They know that they are doing bad and they follow Satan.
2000 YEARS AGO SUCH PEOPLE HAVE CRUCIFIED JESUS CHRIST -
SO IT HAPPENED IN THIS LIFE WITH MATAJI MAHADEV SHIVA
JAY MAHADEV
I don't have any penny. I never touch money.
I am AGHORY. The disciple of SHIVA. Even I don't dress.
JAY MAHADEV
Critical time
Mataji will undergo through very critical situation.
BUT SHE CAN COME VERY SOON AND THE HUMAN BEINGS
WILL BECOME WITNESSES OF HER ALL - POWER AND ALL - LOVE
JAY MAHADEV
Question to Leading Aghori:
How can you know ALL these things?
How can you tell all that ?
Answer: During Dhyana Meditation God tells me precious things.
MATAJI MEENA MA MAHADEV SHIVA
SAVES THE LIFE OF AGHORI IN HIMALAYA
December 15th, 2015
Heavy EARTH - QUAKE in HIMALAYA Region on August 17th, 2015
Leading Aghori is doing Meditation in a hill den.
Suddenly a big rock was falling towards him.
Spontaneously a white HOLY VIBHUTI - HAND
rescues him and carries him out of the den.
Soon after the shaking of the mountain the den collapses
under the massive flow of rocks.
The den could not any more be entered.
THE WHITE HAND COVERED WITH VIBHUTI IS THE DIVINE HAND OF
SHRI MATAJI MAHADEV SHIVA WHO RESCUES AGHORI´S LIFE