IN THIS DREAM - I AM ASKING
SHRI SWAMI SATHYA SAI BABA
ABOUT MY BIG TASK - ALREADY IN 1996 - *
" YOU WILL FULFILL A BIG TASK ... "
THIS WAS STILL THE TIME
WHEN SHIVA HAD TAKEN BACK
HERSELF / HIMSELF
AND MATAJI MEENA MA MAHADEV SHIVA´S
IDENTITY AS GOD
HAD BEEN HIDDEN UNDER SECLUSION IN COSMOS
SWAMI REPLIES N IN MY DREAM :
"THIS FEBRUARY - NO - FEBRUARY NEXT YEAR "
DIVINE LEELAS ARE ALWAYS CONNECTED WITH
WAIT ... WAIT... WAIT ...
NOW IT IS FIXED BY COSMOS -
THE DATE IS : BEGINNING OF FEBRUARY 2018
February 3rd, 2018
THE SKY - GOD´S HEAVEN - WILL OPEN UP
AND THE SOUND OF HEAVENLY MUSIC
WILL BE HEARD EVERYWHERE
THE DIVINE LIGHT WILL BE COLOSSAL
AND THE TWO DIVINE KINGS
SHRI SWAMI SATHYA SAI BABA AND
SHRI SWAMI JESUS CHRIST
WILL BE BROUGHT DOWN ONTO EARTH
IN FLESH AND BLOOD AT ST. MAGNUS
EISENBERG - EAST ALLGEAU - GERMANY
BOOKS PRINTED IN COSMOS :
" CRYSTAL KARMA"
ARE FALLING DOWN ONTO MOTHER EARTH
TO DOCUMENT AND ANNOUNCE " THE GOLDEN ERA "
NOTHING - BUT NOTHING
WILL BE IN DISHARMONY ANYMORE
AS IT IS SINCE A TOO LONG TIME
ANIMALS WILL GET THE SAME STATUS AS MANKIND !
UNITY WILL FLOW - INSTEAD OF SEPARATIONS
HEART BECOMES OPEN AND WIDE
INSTEAD OF
NARROWNESS AND EGO
NOW YOU CAN COUNT THE DAYS
FOR THE GREATEST DAY OF ALL DAYS ...
MUCH LOVE
MATAJI MEENA MA MAHADEV SHIVA
* " THROUGH FIRE INTO LIGHT "
SHANTI VERLAG, page 341
Comments :
Pranam mata ji......
Reverence to Your Holy Lotos Feet
Om Sai ram
S.M.P.
India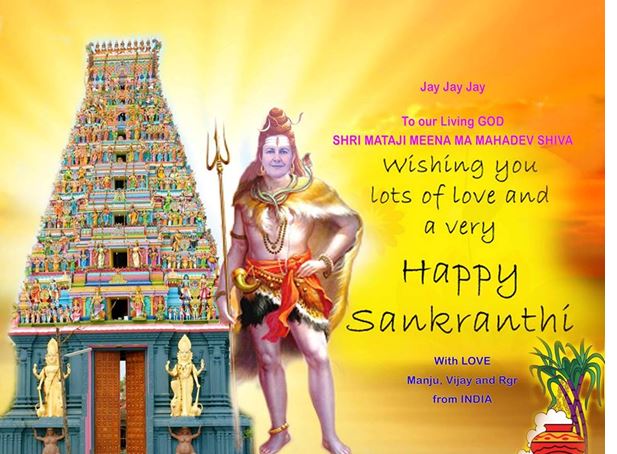 Jay Jay Jay
To our Living GOD
SHRI MATAJI MEENA MA MAHADEV SHIVA
Wishing you Lots of Love and a very HAPPY SANKRANTHI *
With Love
Manju, Vijay and Rgr
from INDIA

*Festivity to honour the SUN
Really strong words, is it wise to pronounce an exact date ?