Dear SHRI MATAJI MEENA MA MAHADEV SHIVA
Jay Mahadev
Many thanks for the wonderful response to my e-mail.
Every person will have good and bitter experiences in their lives.
Only God will help or heal the human beings.
God knows everything.
My personal life towards MAHADEV SHIVA
is very spiritual and there are so many DIVINE experiences with
MATAJI MAHADEV SHIVA in my life.

PARAMASHIVA came to my house in form of a COBRA
and slept for a while in our POOJA room,
gave Blessings and went out of our house.

Yesterday (31 May 2018) I offered PRASADAM with vegetable curry rice to MATAJI SHIVA picture in my house.
As soon as I placed PRASADAM, a small bird came to
the room and did eat up some portion and went out of the room.
After eating the PRASADAM the white + blue bird was very happy and making sound finally went out. I shared this experience with my friends.
Generally birds will be afraid to come near to human beings. But this bird came in front of MATAJI SHIVA's picture and did eat the food.
My friends wondered.
Since my childhood I am devotee of SHIVA.
And I am very spiritual while performing Poojas.
I am very happy to have DIVINE EXPERIENCE from PARAMASHIVA.

Dear SHRI MATAJI MEENA MA MAHADEV SHIVA,
You are GOD and MOTHER to all human beings.
Please BLESS ME & GUIDE ME
PRANAAMS
VANAJA from INDIA
SHRI MATAJI MEENA MA MAHADEV SHIVA´S REPLY TO VANAJA:
OM NAMAH SHIVAYAH DEAR VANAJA,
THAT WHAT MAHADEV SHIVA HAS SHOWERED ONTO YOU ARE VERY SPECIAL BLESSINGS FOR YOU AND YOUR FAMILY
AS YOU HAD MENTIONED BEFORE THE COBRA CAME TO YOUR HOUSE TO SIT IN MEDITATION IN FRONT OF YOUR
POOJA ROOM
IT WAS MY DIVINE SPIRIT COMING TO VISIT YOUR HOUSE
THE COBRA NEVER WOULD HAVE BITTEN OR HARMED YOU
SHE CAME TO BRING PROTECTION TO YOU , YOUR FAMILY AND
TO YOUR HOUSE -
AND NOW THE BLESSINGS WITH THE WHITE - BLUE BIRD
ALSO THESE BLESSINGS HAPPEN BECAUSE OF MY DIVINE SPIRIT IN THAT LITTLE WHITE- BLUE BIRD
HOW HAPPY THE BIRD TOOK PRASADAM AND WAS SINGING IN JOY BEFORE LEAVING YOUR HOUSE AGAIN
THE COBRA AND THE BIRD BOTH RESPONDED TO YOUR HEART
WITH THE HEART OPEN FOR DIVINITY AND THE LIGHT -
ALL CAN HAPPEN ...
ONLY LOVE TOUCHES MY HEART
AND I MATAJI MAHADEV SHIVA RESPONDED ...
BE HAPPY - CHANT OM NAMAH SHIVAYAH - AND THE BLESSINGS AND PROTECTION FOR YOU AND YOUR FAMILY WILL BE THERE
MUCH LOVE
MATAJI MAHADEV SHIVA
Comments :
SHIVA SHANTI SOCIETY Registered
would like to share this message of a devotee in Germany: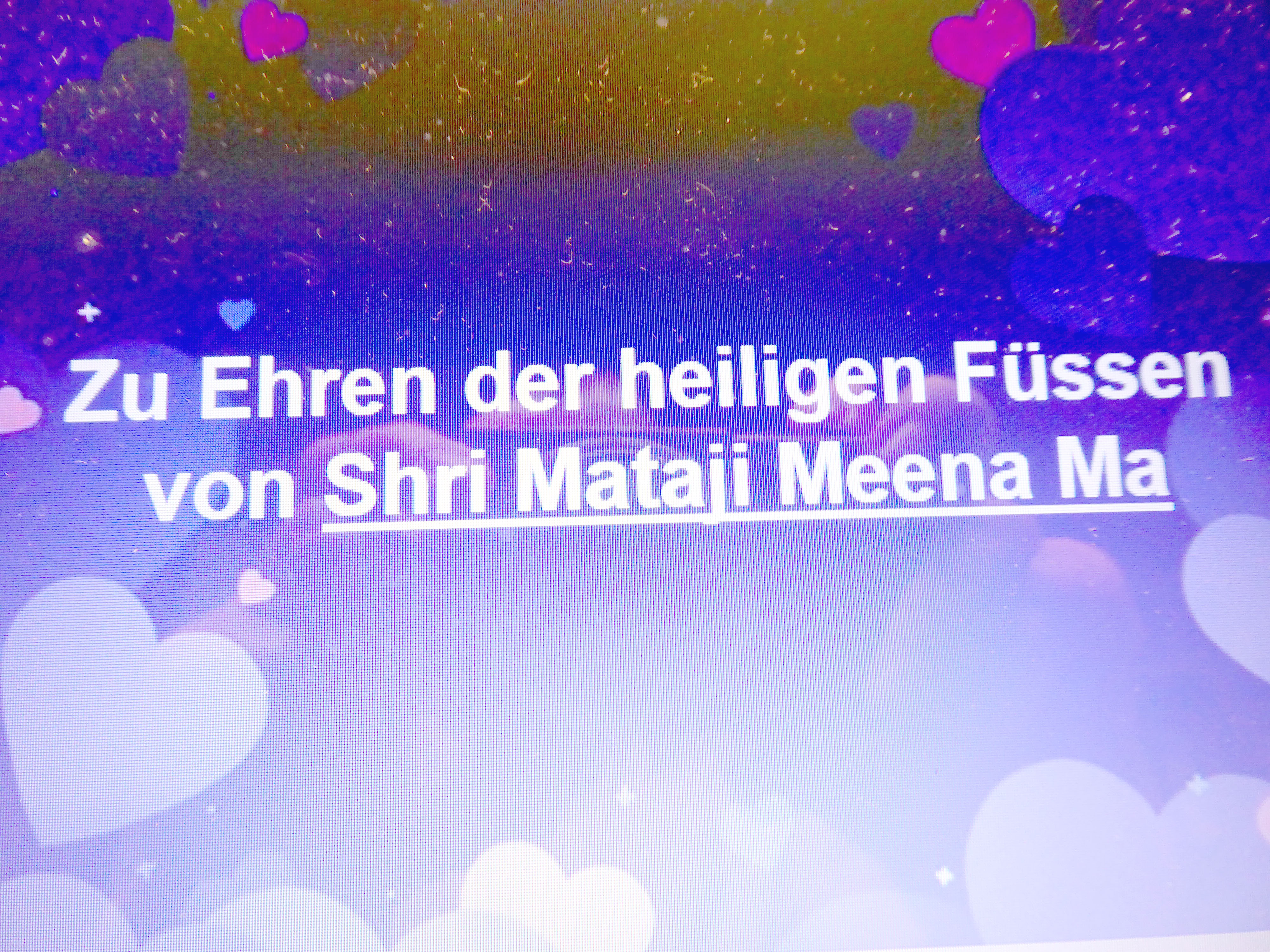 PRANAMS (BOWING IN DEEP RESPECT ) TO THE HOLY FEET OF
SHRI MATAJI MEENA MA
U.B.
Germany
THANK YOU THANK YOU FOR THE DIVINE EXPERIENCE
I AM HAPPY ABOUT ALL DIVINE EXPERIENCES IN THESE TIMES !
LIGHTFUL TIMES FOR US ALL !
MUCH LOVE DEAR MOTHER !
M.C.
Romania
THANK YOU DEAR DIVINE MOTHER, I AM LIKE A CHILD WHO IS WAITING FOR A DIVINE MESSAGE AND EACH TIME I AM SO HAPPY 1
MUCH LOVE
DEAR DIVINE MOTHER!
M.C.
Romania
OM NAMAH SHIVAYA DEAR MAGDALENA
EACH DIVINE MESSAGE PRESENTS FURTHER EVIDENCE OF THE ALL-
EMBRACING LOVE OF GOD -
WITH LOVE AND A BLESSED SUNDAY TO YOU
MATAJI MAHADEV SHIVA
SAI RAM, lDEAR SHRI MATAJI.
Thank you for this wonderful Experience.
Yes GOD sometimes also appears als Animal visiting HIS Dear Ones.
OM SHRI SAI RAM SAI MATAJI, OM NAMAH SHIVAYAH, NAMASTE MA
U.B.
Germany
GREETING GOD IN YOU, DEAR SHRI MATAJI MEENA MA MAHADEV SHIVA,
THANK YOU THANK YOU THANK YOU !
The tissue samples taken from the right eye are benign !
I thank you from the bottom of my heart for YOUR accompanying me and
YOUR BLESSINGS !
Thank you also very much for allowing me to read YOUR HOLY MESSAGES and to see the wonderful HOLY PICTURES .
In great LOVE and GRATITUDE-
greeting you wholeheartedly!
U.M.
Germany