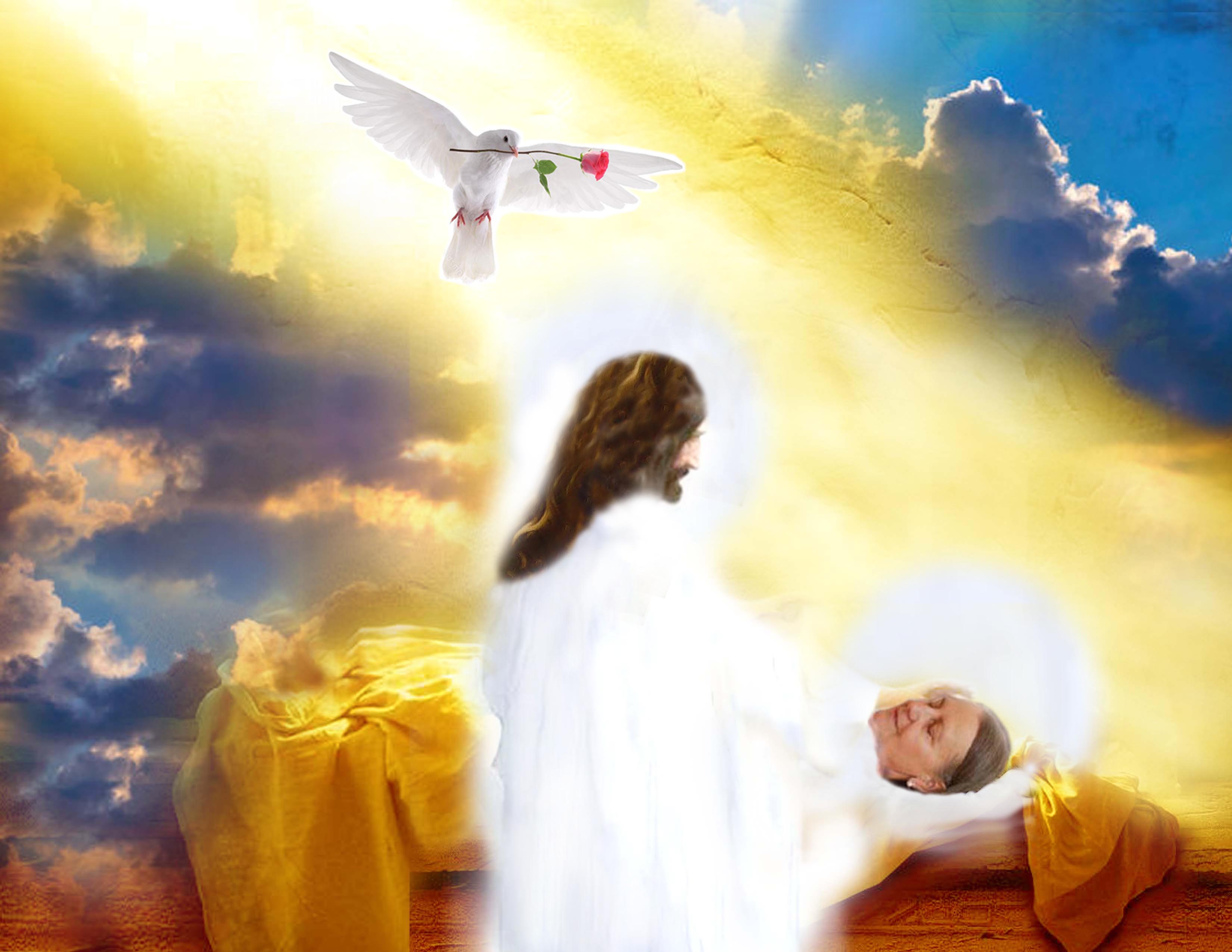 VANAJA R.`s Email to
SHRI MATAJI MEENA MA MAHADEV SHIVA
May 2018
Dear SHRI MATAJI MEENA MA MAHADEV SHIVA
Again YOU blessed me with a HOLY DREAM :
The DREAM is...
MATAJI MAHADEV SHIVA is sleeping on a mattress
That is at night.
The roof of MATAJI MAHADEV SHIVA´S room opens -
At first a WHITE DOVE comes into
MATAJI MAHADEV SHIVA´S room -
then there is WHITE LIGHT ...
A MAN in white gown comes down from HEAVEN to
MATAJI MAHADEV SHIVA and wakes HER up
and tells HER : "TAKE THIS AMRITHAM"
I SAW THE MAN FROM HIS BACKSIDE
WHITE MERCY BRIGHT LIGHT is around the MAN.
After some time the DOVE goes out -
FLYS BACK TO HEAVEN -
and brings a RED ROSE
landing on MATAJI MAHADEV SHIVA´S stomach.
The MAN'S right hand is on
MATAJI'S forehead.
MATAJI MAHADEV SHIVA lifts HER hand
to take the ROSE
JAY MAHADEV
VANAJA R.
India
VANAJA wrote in another Email to
SHRI MATAJI MEENA MA MAHADEV SHIVA
on May 29th , 2018
SHRI MATAJI MEENA MA MAHADEV SHIVA
is being suffering from CANCER.
It is being spread from one part to another body parts.
My feeling is whatever
SHRI MATAJI MEENA MA MAHADEV SHIVA
suffering from CANCER is
SINS, BAD ENERGY & BLACK ENERGY
from all over the GLOBE.
SHIVA also took Poison. His BODY became BLUE.
LIKE THIS SHRI MATAJI MEENA MA MAHADEV SHIVA
also is in the same situation. So it is proven that
MATAJI SHIVA is having DIVINE BODY and
humans can not survive CANCER in different parts,
BUT GOD can survive and heal the body.
Some day MATAJI SHIVA's DIVINE BODY
will become BLUE colour and
will be completely filled with poison. *
THEN SHE will release the GRACE
on sinners to come towards DIVINE PATH.
* THE BLUE - VIOLET COLOUR SOMETIMES
APPEARS ON THE BODY OF GOD
WHEN THE LIGHT BURNS THE DIABOLISM,
THE POISON AWAY ...
SHRI SWAMI SATHYA SAI BABA SOMETIMES
APPEARED BLUE-VIOLET -
AND SHRI SWAMI KRISHNA OF COURSE
AND SHRI MAHADEV SHIVA
SHRI MATAJI MEENA MA MAHADEV SHIVA`S REPLY :
DEAR VANAJA AND TO ALL DEAR DEVOTEES
I WANT TO ADD TO VANAJA´S DREAM AND VISION
MY EXPLANATION IN WHAT SITUATION
MY DIVINE BODY IS ...
AND WHY IN YOUR DREAM DEAR VANAJA YOU SEE
MY BODY LYING IN BED ...
DUE TO THE IMPLANTATIONS OF NEW ORGANS
FROM COSMOS AM IN A STATE OF RECOVERY
ALL NEW IMPLANTED ORGANS MUST BE ADJUSTED
TILL THEY FUNCTION AGAIN PROPERLY
THIS DOES TAKE TIME AND
IS CONNECTED WITH ENORMOUS PAINS
BECAUSE THE 10 TYPES OF CANCER
HAD TOTALLY EATEN AWAY MY
DIVINE PHYSICAL BODY
DUE TO MY DEEP LOVE TO
MANKIND - ANIMALS - NATURE
I HAVE BEEN CARRYING AND ENDURING
ALL THESE PROCESSES
AND PREPARATIONS FOR MANY YEARS
IT IS ONLY THROUGH THIS PREPARATION
THAT THE REUNION OF THE FOUR GODS
ON EARTH CAN HAPPEN :
SHRI SWAMI SATHYA SAI BABA -
SHRI SWAMI JESUS CHRIST -
SHRI MATAJI VISHNU AND
SHRI MATAJI MAHADEV SHIVA
THIS REUNION MEANS SALVATION FOR THE WORLD ...
MUCH LOVE AND BLESSINGS
MATAJI MAHADEV SHIVA
Comments :
BELOVED SHRI MATAJI MAHADEV SHIVA!
IN REVERENCE AND HUMBLENESS WE BOW TO THE DEEP DIVINE LOVE WHICH MAKES YOU TAKE UPON YOU BY YOUR OWN FREE WILL THE TORTURES OF CARRYING SINS, THE NEGATIVE ENERGY OF THE WORLD
MAY THE DIVINE AMRITHAM EASE YOUR PAIN, BRING PROGRESS TO YOUR RECOVERY , AND FINALLY LET THE REUNION OF THE GODS HAPPEN
IN REVERENCE AND LOVE
E.S. UND M.K.
AUSTRIA
THANK YOU THANK YOU DEAR MOTHER FOR THE BEAUTIFUL MESSAGE !
THANK YOU FOR ALL HELPERS - THANK YOU GOD FATHER,
JESUS CHRISTUS, SWAMI SAI BABA, DANKE!
MUCH LOVE FROM ME ! I LOVE YOU !
M.C.
Romania

MUCH LOVE, OM SAI RAM DEAR MOTHER! THE GOLDEN TIME IS VERY CLOSE! ONLY THROUGH THIS PREPARATION THE REUNIION OF THE FOUR GODS ON EARTH CAN HAPPEN: SHRI SWAMI SATHYA SAI BABA, SHRI SWAMI JESUS CHRIST, SHRI MATAJI VISHNU AND SHRI MATAJI MAHADEV SHIVA! HALLELUJAAAAAA!
M. C.
Romania