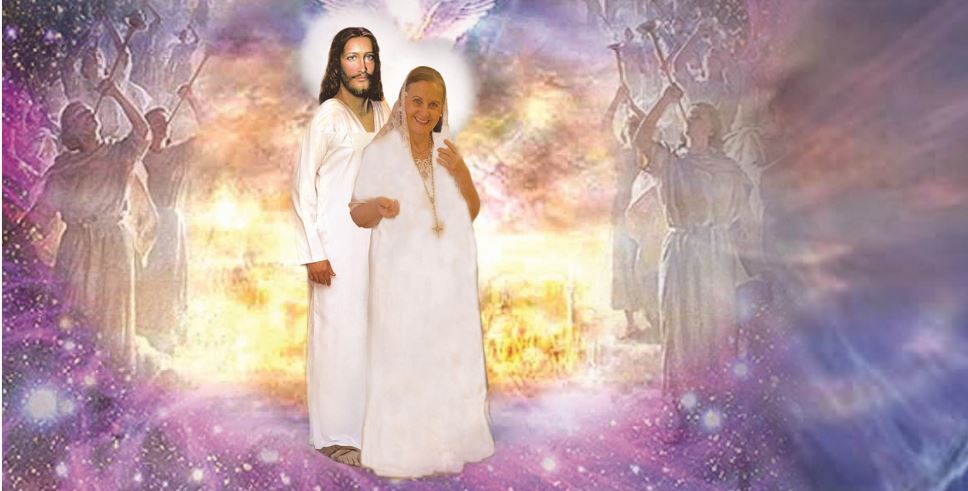 VANAJA R. `s Email to
SHRI MATAJI MEENA MA MAHADEV SHIVA
Dear SHRI MATAJI MEENA MA MAHADEV SHIVA
Again YOU blessed me with a HOLY DREAM , it was
in the night to June 13th , 2018 TIME: 4:45 am
MATAJI SHIVA was sleeping on cot with pink dress.
SHE had HER eyes shut.
Tears are coming down from MATAJI SHIVA'S eyes...
In that room I am trying to touch MATAJI'S FEET.
But MATAJI SHIVA'S FEET were SOOO COOL.
Suddenly I smell nice FRAGRANCE
mixed with ROSES
Then my eyes were looking at all sides of the room.
Suddenly the ROOF of MATAJI SHIVA'S room
disappeared and I clearly saw the GOLDEN LIGHT
came to MATAJI SHIVA'S cot.
In that LIGHT a WHITE DRESSED MAN
landed near to the cot.
I was watching the whole scene.
The WHITE DRESSED MAN was touching
MATAJI SHIVA'S head and was rubbing HER eyes.
Immediately MATAJI SHIVA started smiling and
suddenly HER dress colour changed in to white.
Then the WHITE DRESSED MAN took MATAJI SHIVA
and flew back to sky with trumpet and bigger hymn sounds .
I was looking straight up till THEY disappeared.
I screamed loudly - the time was 4.45 am.
JAY MAHADEV
VANAJA R.
India
* Facebook and Website
VANAJA`S SECOND HOLY DREAM
June 10th, 2018
A SIGNIFICANT DREAM OF RGR`S WIFE V RGR *
April 25th, 2018
SHRI MATAJI MAHADEV SHIVA´S REPLY
TO VANAJA´S THIRD DREAM ON JUNE 13th, 2018
June 15th, 2018
OM NAMAH SHIVAYA DEAR VANAJA AND
DEAR DEVOTEES
TONIGHT I WAS THINKING IT IS TIME NOW
THAT VANAJA IS GETTING HER 3. DREAM -
AND YOU WERE BLESSED AGAIN WITH
A REMARKABLE, HEART-TOUCHING, DIVINE DREAM
THE GOLDEN AGE HAD BEEN ANNOUNCED
A FEW WEEKS BACK -
SLOWLY AND STEADILY THE WHOLE WORLD
IS BEING LIFTED UP TO 5th DIMENSION
IN COSMOS ...
AS YOU SEE EVERYTHING TAKES TIME ...
DUE TO THE SITUATION OF BEING SHIVA -
AGAIN I AM IN A SEVERE SITUATION :
HELPING ...
CARRYING ...
SWALLOWING THE POISON OF THE SINS OF THIS WORLD ...
MANY THINGS COME TOGETHER IN MY DIVINE BODY ...
THE TEARS I SHED HAVE TO DO WITH THE SITUATION
IN THE WORLD ...
SO MANY PROBLEMS ARE STILL ALL OVER
IN THE WORLD ...
AND FURTHER DELAYS OF THE DIVINE DESCENT ...
THE WHITE - DRESSED MAN YOU SAW
COMING DOWN FROM HEAVEN IS
MY BELOVED SPOUSE SHRI SWAMI JESUS CHRIST -
AND YOU WERE ALLOWED TO SEE
HOW MY SPIRIT IS WORKING DAY AND NIGHT ...
YOU SAW SHRI SWAMI JESUS CHRIST
AND SHRI MATAJI MAHADEV SHIVA
MOVING TO HEAVEN -
YES - WE ARE CONSTANTLY WORKING BETWEEN
HEAVEN AND EARTH ...
THE GOLDEN LIGHT YOU SAW ...
THE WONDERFUL PERFUME ... ROSES ...
THE DIVINE SOUND OF TRUMPETS ...
ALL THAT IS PART OF MY DIVINITY
YOU ARE BLESSED TO RECEIVE THESE TREASURIES
BECAUSE YOUR HEART IS PURE -
THEREFORE I AM ABLE TO FULFILL
WISHES TO YOUR HEART
AND BRING YOU NEARER AND NEARER TO ME
MAHADEV SHIVA
AND TO MAKE YOU UNDERSTAND BY HEART
WHY GOD IS GRANTING TO YOU
DIVINE PRESENTS IN FORM OF HOLY DREAMS
AND HOLY VISIONS
WITH LOVE AND BLESSINGS TO YOU DEAR VANAJA
AND TO YOUR DEAR SPOUSE AND YOUR DEAR CHILDREN
MATAJI MAHADEV SHIVA
Comments :
DEAR SHRI MATAJI MAHADEV SHIVA!
WE ARE VERY GRATEFUL THAT WE HAVE PARTICIPATED IN VANAJA'S HOLY DREAM AND ARE SO GRATEFUL AND GLAD ABOUT SHRI MATAJI MAHADEV SHIVA´S REPLY !
OM NAMAH SHIVAYA
IN GRATITUDE AND LOVE
E.S.
Austria

WONDERFUL DREAM, THANK YOU FOR SHARING, THERE IS HOPE AND POWER FOR MANY WORKING AND HELPING THESE TIMES! GOD'S BLESSING !
MUCH LOVE ,
DEAR MOTHER HELP ME PLEASE SO I CAN HELP THAT WE CAN RECEIVE
THE DIVINE GODS FASTER!
OM NAMAH SHIVAYA
M.C.
Romania

DEAR M.,
WHEN LOVE TAPS AND TOUCHES MY HEART, THEN ONE WILL BE ALLOWED TO TAKE PART IN THE POWER OF HEAVEN THAT OPENS UP FOR THESE SOULS -REMAIN FIRM IN YOUR BELIEF
MUCH LOVE
MATAJI MAHADEV SHIVA
OM SAI RAM OM NAMAH SHIVAYA
DEAR SHRI MATAJI MAHADEV SHIVA
OUT OF IMMEASURABLE DIVINE LOVE
YOU DEAR SHRI MATAJI MAHADEV SHIVA -
TOGETHER WITH SHRI SWAMI JESUS CHRIST
AS DESCRIBED IN VANAJA'S THIRD HOLY DREAM,
ARE WORKING FOR ALL OF HUMANITY
SO THAT THE ENTIRE WORLD IS MORE AND MORE
UPLIFTED INTO THE 5th DIMENSION.
FROM THE BOTTOM OF OUR HEARTS WE THANK YOU.
IN LOVE AND HUMBLENESS
M. and H.W.
Germany
THANK YOU, THANK you DEAR MOTHER, YEEEEES, I REMAIN AND I WILL REMAIN IN FAITH, YOUR LOVE IS DIVINE AND INFINITE, AND I FEEL HOW WONDERFUL IT IS! THANK YOU FOR THE JOY THAT YOU ARE IN MY HEART! OM SAI RAM!
M.C.
Romania
Dear SAI RAM, dear SHRI MATAJI, may the world experience a leap in time so that the torments and all suffering come to an END for you and all Living Beings. We have enough and can not a endure it anymore. O Lord have mercy with your creatures and lead us to the DIVINE Source in our hearts and in the Spirit.OM SHRI SAI RAM SAI MATAJI, OM NAMAH SHIVAYAH, NAMASTE MA
U.B.
Germany

DEAR U. - THAT IS WHY I HAVE COME ONTO THE WORLD AND MY BEING ITSELF IS IMPLORING THAT EVERYTHING IS ACCELERATED - EVEN FOR ME IT IS SUCH A GREAT BURDEN TO DRAG THE DIVINE CREATION - THE WORLD - OUT OF THE CALAMITY - TO BE LED TO FREEDOM
MUCH LOVE
MATAJI MAHADEV SHIVA

SHRI MATAJI, SHRI MATAJI, PRAISE TO YOU PRAISE TO THOUSANDFOLD
U.B.
Germany
V.I.
Italy