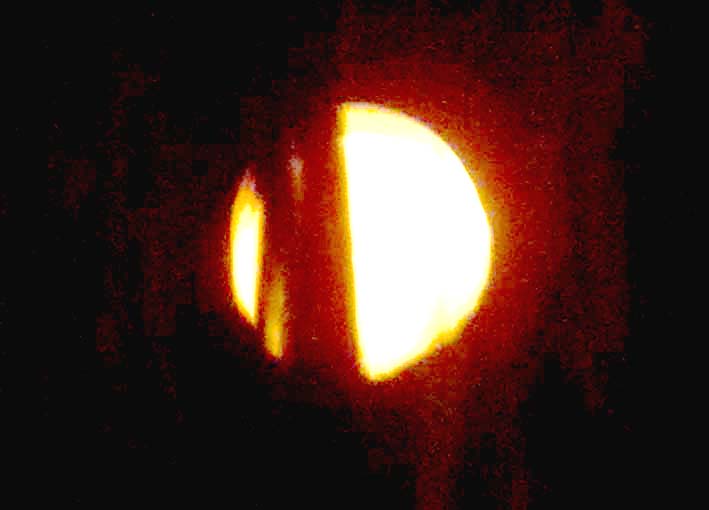 BELOVED SHRI MATAJI MAHADEV SHIVA,
The SUNDAY GOSPEL (Mk 5, 21 - 43)
describes the RAISING FROM THE DEAD of the
DAUGHTER of the JAIRUS ... (July 1st , 2018)
... my thoughts are with YOUR MESSAGE
that GOD can also raise the DEAD ...
On Sunday afternoon (July 1st, 2018) I had
the following experience during our MEDITATION :
After having pleaded vehemently at the feet of
SHRI SWAMI SATHYA SAI BABA
that YOU continue to be on EARTH
in the Renewed Body, after a while
HE says graciously:
"SHE WILL LIVE"
I am very quiet and JOY rises in me -
then I see in front of a background like on the
computer pictures (open sky, bright clouds)
the contours of a dark, seated figure,
pyramid-shaped, with a "CROWN" ...
I call to SWAMI who has stepped
to the right side ...
I hear, "I LOVE YOU"
Everything is very quiet
The contours of the Figure become brighter -
then I see SHRI MATAJI MAHADEV SHIVA`S
FACE very bright and clear -
and HER SITTING SHIVA - FIGURE
SHE speaks: "RECEIVE MY BLESSINGS"
I remain in the DIVINE
SILENCE, QUIETNESS and CLARITY
and feel great PEACE

OM JAY SHRI MATAJI MAHADEV SHIVA
E.S.
Austria
July 3rd, 2018
P.S.
After the MEDITATION also M.K. felt
a strong RELIEF
which lasted till the next day.
OM SAI RAM
OM SAI RAM
OM SAI RAM
SHRI MATAJI PARAMATMA MAHADEV SHIVA REPLIES :
DEAR E. AND DEAR M.,
AND TO ALL DEAR DEVOTEES AND DEAR SEEKERS
July 8th, 2018
IN THIS CASE NOW ESPECIALLY TO YOU DEAR E.
IF I HAVE WRITTEN ABOUT RAISING OF THE DEAD
AND LEPROSY
A FINE PRECISION HAS YET TO BE CONSIDERED
THE MATTER IS HERE THE TRINITY OF GOD -
THE MATTER IS HERE MY FORM
SHRI MATAJI PARAMATMA MAHADEV SHIVA -
IT IS THE MORE SEVERE
BECAUSE ALL THE YEARS
THE MATTER HAS BEEN
MY CARRYING OF THE SINS OF THE WORLD
SO THAT NOW
SALVATION IN EVERY RESPECT
CAN COME !
WHAT SALVATION WILL MEAN TO ME
MATAJI PARAMATMA MAHADEV SHIVA -
IS STILL OPEN
HOWEVER - THERE ARE SO MANY SIGNS -
SO MANY PROPHECIES
SPOKEN ABOUT IN COSMOS DIRECTLY WITH
SHRI SWAMI SATHYA SAI BABA
SHRI MATAJI VISHNU AND
SHRI SWAMI JESUS CHRIST
SO MANY DREAMS / VISIONS
OF MANY PEOPLE -
WHEN WE CONSIDER THEM ALL,
THEN WE CAN TAKE FOR GRANTED -
THAT MY BODY CAN ACT AND WILL ACT
IN SUBTLE MATTER ,
HOWEVER FLESH AND BLOOD
WILL REMAIN WITHIN ME
SO THAT THE GREAT UNIQUE MISSION
OF THE FOUR GODS CAN TAKE PLACE ON EARTH
YOU HAVE FELT CORRECTLY -
IT IS THE TRUTH -
IT IS THE DIVINE POWER
WHICH IS LEADING AND GUIDING
HOPEFULLY VERY VERY SOON
SALVATION AND RESURRECTION
WILL TAKE PLACE
OM JAY SAI RAM
OM NAMAH SHIVAYA
AMEN
NAMASTE
ASSALAM ALAICUM
HALLELUJAH
SHALOM
WITH LOVE
MATAJI MAHADEV SHIVA

Picture
SHRI SWAMI SATHYA SAI BABA and
SHRI MATAJI MAHADEV SHIVA IN THE MOON -
HOLY PICTURES already taken by
SHRI MATAJI MAHADEV SHIVA in Sardegna
on September 26th, 2010 with a small digital camera