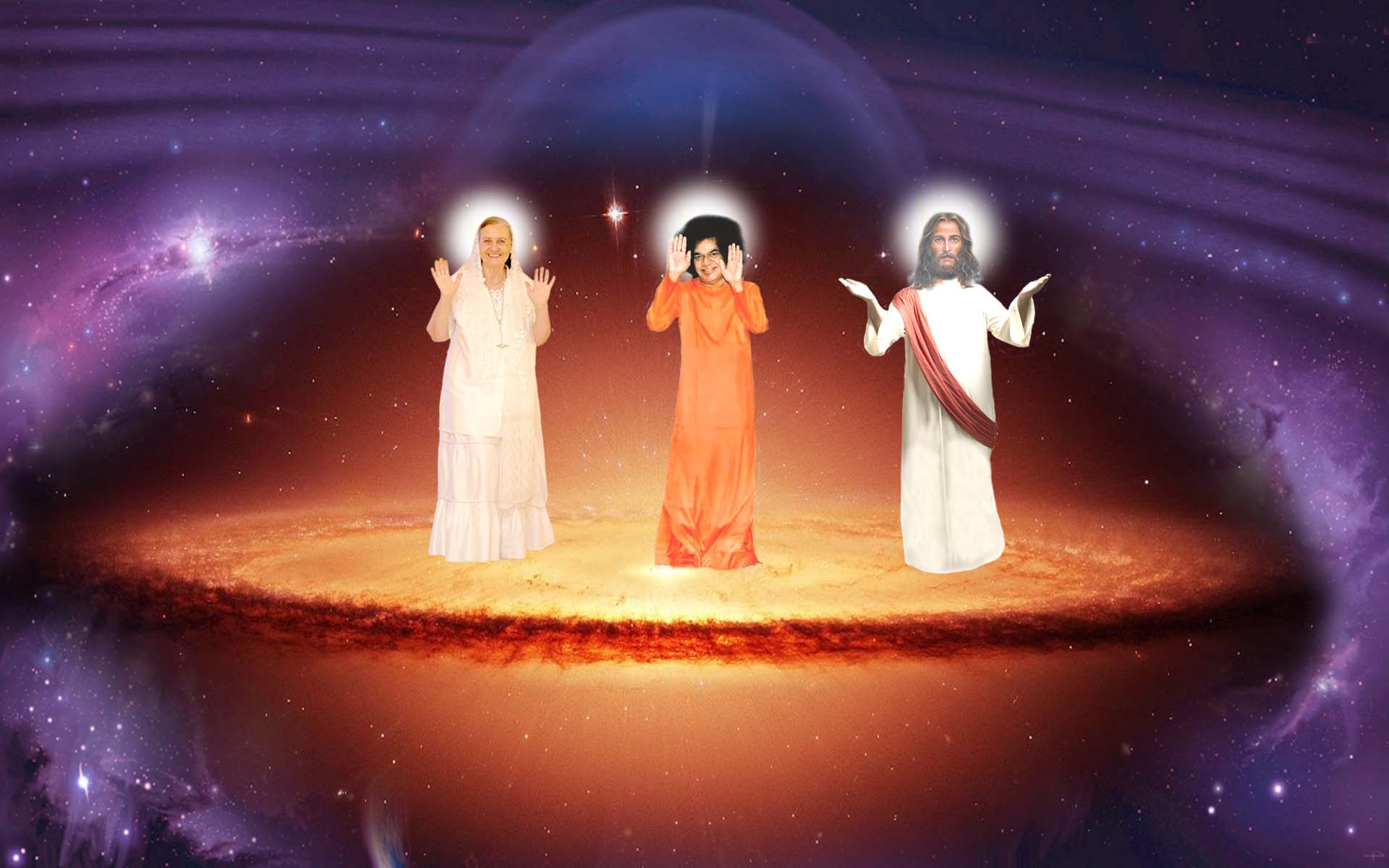 OM NAMAH SHIVAYA DEAR U.
AND TO ALL DEAR DEVOTEES ,

ONLY IF THE OLD IS LEFT BEHIND,
THE NEW PATH WILL SHINE
IN A NEW GOWN
IN NO WAY MY DIVINE PATH
HAS SPARED ANYTHING
REGARDING PAINS AND SUFFERINGS
AND THE HUMAN BEINGS` FIGHT AGAINST
THE DIVINITY WITHIN ME ...
ESPECIALLY SHRI SWAMI SATHYA SAI BABA
IS WORKING WITHIN ME
TILL THE LAST DAMAGED AREAS OF THE PAST
ARE HEALED
THE CARRYING FOR THE ENTIRE CREATION -
THE UNMEASURABLE BURDEN
TO THIS EXTENT NEVER EVER
EXPERIENCED BEFORE -
WILL BE HEALED
TODAY NIGHT SEVERE SUBTLE OPERATIONS WILL BE MADE AGAIN ON MY BODY
AND THIS WILL CONTINUE TILL THE LUMINOUS DAY-
THE DAY OF ALL DAYS -
THE DAY OF THE DIVINE DESCENT .
..
ONLY THEN THE LAST HURDLES WILL BE OVERCOME
IN MATAJI PARAMATMA MAHADEV SHIVA
GOD HAS SO MUCH LOVED THE WORLD
THAT HE GAVE HIS ONLY-BEGOTTEN SON JESUS CHRIST
INTO THIS UNDESCRIBABLE SACRIFICE
OF DEATH ON THE CROSS ..
SLOWLY BUT SURELY
YOU WILL UNDERSTAND MORE AND MORE
WHAT MY BELOVED SPOUSE JESUS CHRIST
MEANT:
"YOU ARE ALSO ON THE CROSS AS I WAS -
YOU ALSO GO THROUGH THIS IMMENSE SUFFERINGS
JUST LIKE ME ... "
AND ALMOST MY EARTHLY BODY -
THIS WONDERFUL DIVINE BODY SHIVA'S -
WOULD NOT HAVE MADE IT ANY MORE
SO EATEN UP ...
ENDURED BY SO MANY SUFFERINGS ...
FOR THE BENEFIT OF THE ENTIRE HUMANITY
FOR THE BENEFIT OF THE ANIMALS
FOR THE BENEFIT OF EVERYTHING THAT IS
INTERWOVEN WITH DIVINE ODEM
DEAR U., I KNOW WHAT YOU ARE GOING THROUGH
WHAT IS GOING ON WITHIN YOU
THESE ARE THE SMALL INITIAL APPROACHES
OF THE IMMENSE SUFFERINGS
OF THE IMMENSE ORDEAL
BUT THE POINT IS NOT BIG OR SMALL -
THE POINT IS SOCIAL COHESION -
THE POINT IS TO RECOGNIZE
THAT NO HUMAN BEING IS MORE OR LESS
I AM CONVEYING TO YOU RELIEF
AND THE STRENGTH TO COPE
AND TO HOLD ON
AFTER EACH DEATH THERE IS RESURRECTION
MUCH LOVE AND BLESSINGS
MATAJI MAHADEV SHIVA
Comments :
THANK YOU THANK YOU THANK YOU DEAR MOTHER 
FOR THE MESSAGE, MORE AND MORE I UNDERSTAND, 
MORE AND MORE I AM HAPPY THAT YOU DEAR MOTHER ARE 
IN GOOD HOLY HANDS! 
DIVINE HEALING PROCESSES OF SHRI SWAMI SAI BABA THAT MAKE
YOU HEALTHY IN YOUR OWN DIVINITY!
THANK YOU DEAR SWAMI SAI BABA ! 
THANKS TO ALL ! I LOVE YOU !
M.C.
Romania
DEAR  M.,
YOU ARE IN MY HEART
MUCH LOVE
MATAJI MAHADEV SHIVA
DEEEEAR MOTHER I AM SOOOO HAPPY, I TELL EVERY BODY OF YOU,
YOUR LAST MESSAGES HAVE MADE ME SOO ALIVE , FULL OF STRENGTH AND LOVE, I THANK YOU AND YOUR HUSBAND JESUS CHRIST SO MUCH FOR IT ,
THANK YOU TO SWAMI SAI BABA, GOD FATHER AND ALL DIVINE HELPERS!
I LOVE YOU AND THANK YOU, THANK YOU
MUCH LOVE   FROM  ME!
M.C.
Romania
OM SAI RAM OM NAMAH SHIVAYA
DEAR SHRI MATAJI MAHADEV SHIVA
INFINITE THANKS FOR YOUR WONDERFUL DIVINE LOVE
AND YOUR BLESSINGS.
YOUR DIVINE LOVE AND YOUR BLESSINGS
CARRY AND HEAL US AND DISSOLVE ALL DARKNESS .
YOUR DIVINE BENEVOLENCE ERECTS US
AGAIN AND AGAIN AND
MAKES THE NEW LIGHTFUL BLOSSOM.
YOUR DIVINE HELP WAS AND IS ALWAYS SO
SIGNIFICANTLY FELT
FROM THE VERY DEEPEST HEART WE WISH YOU
ALL LOVE AND ALL CONCEIVABLE GOOD FORTUNE
ANDTHAT YOUR UNBEARABLE SUFFERINGS FOR HUMANITY
FOR ALL OF US WILL BE DISSOLVED
AND YOU ARE VERY VERY HAPPY.
WITH LOVE, HUMBLENESS AND GREAT THANKFULNESS
M. and H.W.
Germany

🕉
🙏🏻
    M.D.
   Romania
SHRI  MATAJI  MAHADEV  SHIVA´S  REPLY  :