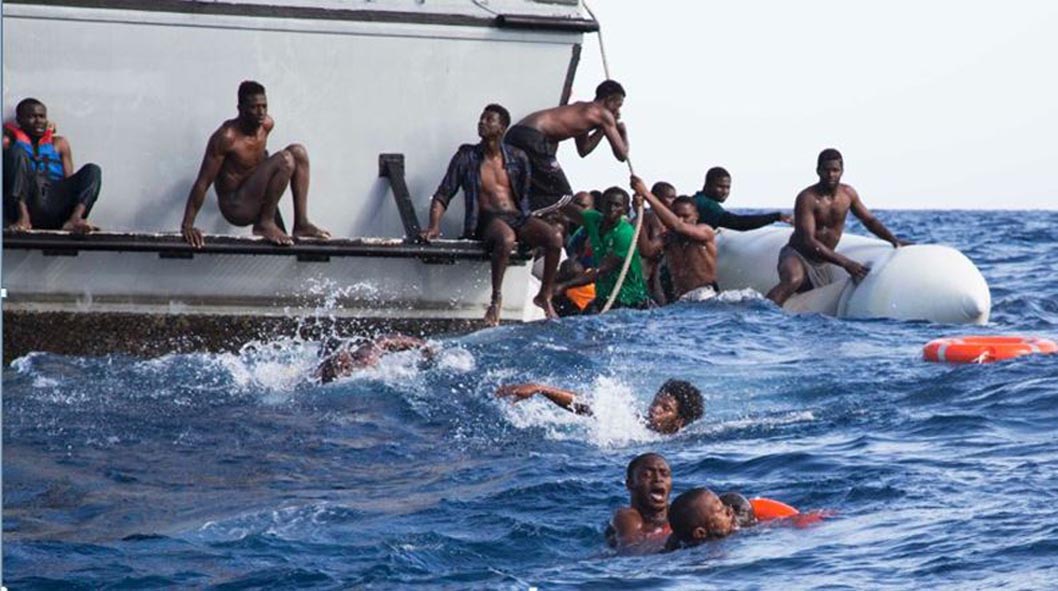 THINKING OF THE REFUGEES -
OF WHAT IN HUMANITARIAN WAYS
IS GOING WRONG -
I WOULD WISH ALREADY TO BE ACTIVE
IN MY DIVINE MISSION
OFFICIALLY AND NOT INOFFICIALLY
STILL THESE MEASURES
TO HELP AND TO SAVE
ARE DONE BY ME IN SILENCE
BUT WHAT DO HUMAN BEINGS
ALLOW THEMSELVES -
TO BE SO PRESUMPTUOUS -
IN THE IMAGE OF GOD -
TO LEAVE BEHIND CARCASSES ...
AND TO MAKE A GRAVE OUT OF
A BEAMING SEA ...
A GRAVE - WITH THE CRY FOR GOD
THE CRY FOR REMEDY ...
AS LONG AS HUMAN BEINGS
ACT FROM THE ANIMAL LEVEL,
GOD DOES NOT WIN OVER THE HEART ...
ALL THE RESPONSIBLE ONES
ALL WHO BELIEVE THEY CAN PLACE THEMSELVES
ABOVE THE DIVINE PRINCIPLE
OF LOVE AND FORGIVENESS AND COMPASSION
WILL THEMSELVES  CONFRONT  WITH
DEEP LEARNING TASKS ...
AS IT IS AT THE MOMENT
THAT A HUMAN BEING IS NOT VALUED -
NO MATTER WHAT SKIN COLOR
FROM WHICH COUNTRY THIS SOUL COMES
WHICH PLIGHT IS DRIVING THIS SOUL
ONTO THE SEA
WHAT ORIGIN
WHAT POLITICAL ORIENTATION HE / SHE HAS -
THEY ARE HUMAN BEINGS -
YOUR BROTHERS AND SISTERS ...
IT IS THE FREEDOM OF ONE´S SOUL
THE DIGNITY OF A HUMAN BEING
WHICH HAS TO BE PLACED
ABOVE SELF-INTEREST AND SEPARATION
NO ONE SHOULD DIE
HERE WE SPEAK OF ARBITRARY DYING
REJECTION OF CHARITY
ALMOST DAILY HUMAN SOULS ARE INUNDATED
BY THE MEDIA :
"IT IS LIKE THAT - AGAIN HUMAN BEINGS
HAVE DROWNED - HAVE DIED"
NO ! NO ! NO !
I VALUE THE VOLUNTEER HELPERS VERY MUCH
THE BOATS
THE CAPTAINS AND THEIR CREWS,
ALL THE ONES WHO SET OFF
TO COUNTERACT THE MASS MURDER
TO A CERTAIN EXTENT
BELIEVE ME - EVERYTHING WILL BE CHANGED !
GOD IS PART OF WHAT HUMAN  BEINGS  ARE KILLING -
TO ELIMINATE WHILE LOOKING AWAY ...
WE CANNOT CLOSE BORDERS,
WHEN THE CONSCIOUSNESS -
THE HEART KNOWS
THAT DAILY SO MANY HUMAN BEINGS
ARE FLEEING -
FOR WHATEVER REASON EVER
GOD IS A PEACEFUL GOD
GOD IS A GOD WANTING TO MAKE HEARTS SHINE
THEREFORE THE MALICIOUS POISONED ROOTS
IN THE HEARTS MUST BE REMOVED LIKE WEEDS
ALL THIS WILL BE PART OF RESURRECTION
WHEN THE HEARTS ARE CLEANED
AT THE MOMENT IT LOOKS
AS IF IT TAKES SOME LONGER TIME -
BELIEVE IN THE TRANSFORMATION
WITH LOVE
MATAJI MAHADEV SHIVA
Comments :
LIGHTFUL THOUGHTS TO ALL OF US, WHAT IS TAKING PLACE OUT THERE IN THE SEA IS VERY TERRIBLE ! MY SON WAS 18, MY MOMMY AND I WERE PRISONED NEAR YUGOSLAVIA AS WE TRIED TO FLEE FROM ROMANIA, THEY BEAT UP MY SON BEFORE MY EYES , TIMES WERE REALLY AWFUL FOR US FOR US ONLY BECAUSE WE TRIED TO FLEE INTO FREEDOM ! WHAT IS GOING ON WITH THE REFUGEES MAKES ME VERY SAD ! MUCH STRENGTH AND LOVE IS GOING TO WIN VICTORY !
M.C.
Romania 
DEAR M.,
BRUTALIZATION AMONG HUMAN BEINGS HAS INCREASED SO MUCH THAT ONLY THOSE WHO HAVE HAD THEIR OWN EXPERIENCES OF FLIGHT AND SURVIVAL - SHOW COMPASSION ... WITH SO MANY HUMAN BEINGS I REALIZE SUCH A HUGE BRUTALIZATION EVERYONE IS THINKING ONLY OF HIMSELF / HERSELF - THE VALUES HAVE BEEN LOST ...
THE HUMAN BEING IS NOT BORN FOR HIMSELF / - HERSELF
NOT FOR HIS EGO - RATHER HE / SHE IS BORN TO SERVE - TO HELP AND TO WIDEN HIS / HER HEART ...
MUCH LOVE
MATAJI MAHADEV SHIVA
IT IS LIKE THIS DEAR MOTHER, THAT IS RIGHT - THINKING EGOISTICALLY ONLY OF ONESELF, I HOPE THAT IT WILL CHANGE NOW , THE DIVINE LOVE SHOULD UNFOLD IN EVERY HEART AND START TO SERVE THERE WHERE IT IS NECESSARY! I LOVE YOU AND I AM LOOKING FORWARD TO THE GOLDEN TIMES! ALL LOVE TO YOU! THANK YOU FOR YOUR DIVINE BEING, AND FOR YOUR DIVINE LOVe
M.C.
Romania