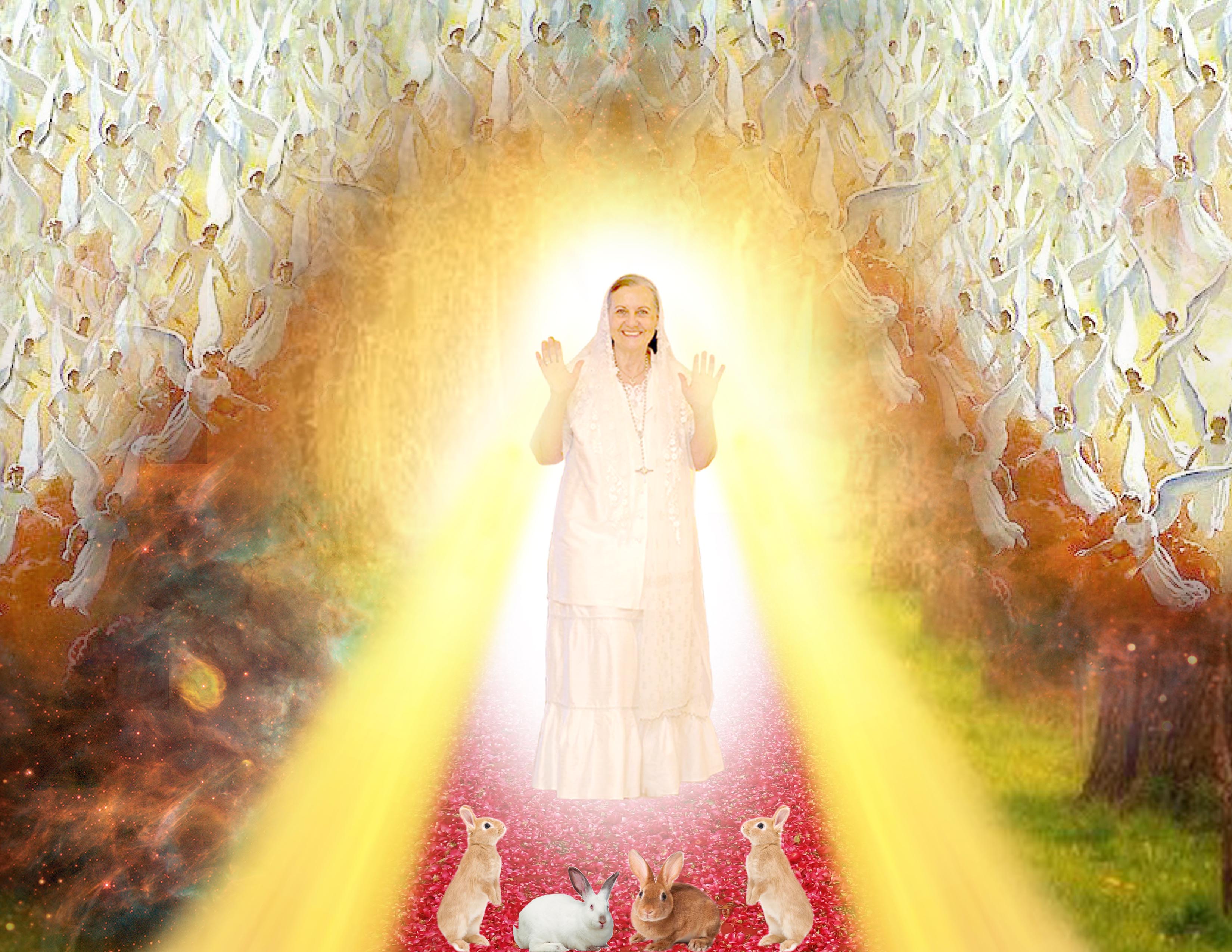 PRANAMS
OM NAMAH SHIVAYA

Dear MATAJI PARAMATMA MAHADEV SHIVA
In the night of October 27th to 28th, 2018
again I received a very very special dream.
In this dream I see
PARAMATMA MAHADEV SHIVAM
in HEAVEN, in COSMOS

SHRI MATAJI PARAMATMA MAHADEV SHIVA
is walking on red ROSES -
Backside of PARAMATMA MAHADEV SHIVA
is white LIGHT
And surrounded also by Rays of GOLDEN LIGHT
Few HARES are playing joyfully in front of
PARAMATMA MAHADEV SHIVA
.
This very special dream I want to share.
PRANAMS
JAI JAI MAHADEV
H.P.A.
India
SHRI MATAJI PARAMATMA MAHADEV SHIVA REPLIES :
OM NAMAH SHIVAYA
DEAR H.P.A.,
IN THIS DREAM I ALLOWED YOU
TO PARTICIPATE AND TO HAVE INSIGHT
OF MY DIVINE HOME IN HEAVEN
THERE WHERE PURE LIGHT RADIATES:
L--- O --- V --- E
YES , IN FRONT OF ME -
HARES ARE PLAYING JOYFULLY
THE HARES ARE SYMBOLS
OF THE NEAR RESURRECTION
ALWAYS THE HARE PLAYS A GREAT PART -
SYMBOLICALLY - IN THE NEW GOLDEN ERA ...
EACH ONE MAY TAKE INTO HEART
THIS DIVINE VISION IN DREAM
WITH LOVE AND BLESSINGS
MATAJI PARAMATMA MAHADEV SHIVA
Comments :
OM NAMAH SHIVAYA DEAR MOTHER SHRI MATAJI MEENA MA MAHADEV SHIVA, INFINITE JOY, THE DREAM SHOWS THE RESURRECTION - IT IS FULL OF HOPE AND THAT THE TIME IS VERY NEAR AND THEN NOT ONLY THE HARES WILL BE DANCING OF JOY, THEN WE ALL WILL BE DANCING - ALL THOSE WHO LOVE MOTHER IN YOUR MAGNIFICENCE, IN YOUR DIVINITY AS SHRI MATAJI MEENA MA MAHADEV SHIVA, TOGETHER WITH THE TWO KINGS SHRI SWAMI JESUS CHRIST AND SHRI SWAMI SAI BABA! THANK YOU THANK YOU ! HALLELUJA!
M.C.
Romania / Germany
THE JOY IS ALSO IN MY HEART - LET US CONCENTRATE VERY DISTINCTLY ONTO THE COMING DESCENT OF THE TWO DIVINE KINGS - EMBRACE FOR THE ENTIRE WORLD - FOR THE ANIMALS FOR ALL CREATURES
MUCH LOVE
MATAJI MAHADEV SHIVA
OM NAMAH SHIVAYA OM NAMAH SHIVAYA OM NAMAH SHIVAYA
DEAR SHRI MATAJI MAHADEV SHIVA !
THANK YOU THANK YOU THANK YOU
FROM OUR WHOLE HEARTS
IN GREAT THANKFULNESS AND LOVE
E.S. and M.K.
Austria