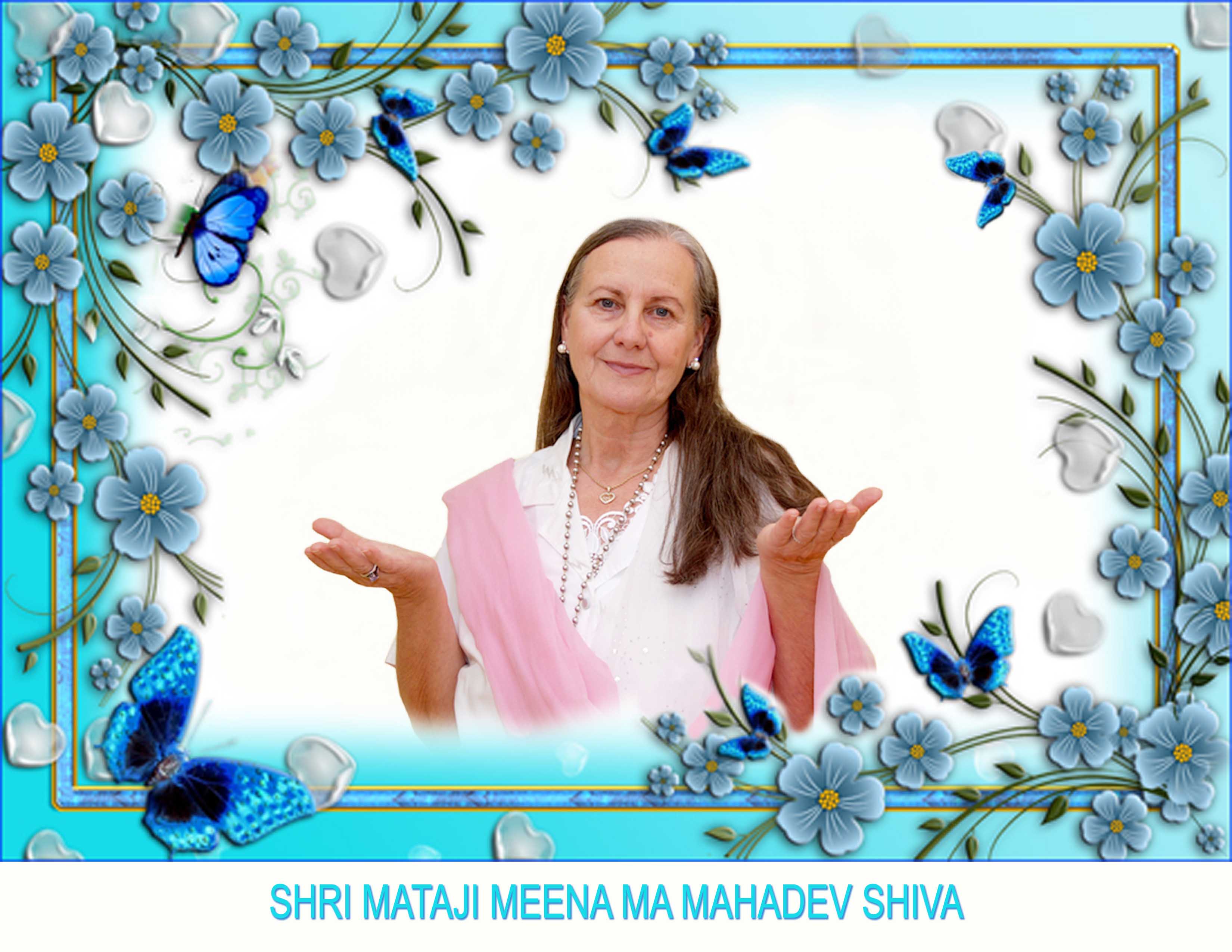 I was shopping with my daughter CHR. and
I parked my car waiting in a parking lot.
At that moment a silver car is parking
next to me at my right side.
Behind the steering wheel I recognize
the wise, knowing, calm COUNTENANCE
of SHRI MATAJI MAHADEV SHIVA.
SHRI MATAJI MAHADEV SHIVA
is constantly looking at the SKY.
I also look at the SKY
to see what SHRI MATAJI sees.
But I do not see anything.
That had been for about 10 minutes.
Then SHRI MATAJI with the car
has suddenly gone !
I have not noticed HER driving away.
Has SHIVA dematerialized HERSELF
and also HER car ?
After this very special EXPERIENCE
I felt the Peace and Secureness
which I always feel when I light the wonderful
Indian rose incense sticks of
SHRI MATAJI MAHADEV SHIVA
and meditate in front of the picture of SHRI MATAJI.
A few days ago at 10 p.m. I looked at the
"RECENT HOLY MESSAGES"
on SHRI MATAJI MAHADEV SHIVA'S website.
Suddenly my right thumb and forefinger
were covered with GOLD DUST ...

And - there was my DREAM also a few days ago:
I see a RED HEART - about 10 cm in diameter -
with a CROWN OF THORNS -
and I think of SHRI MATAJI MAHADEV SHIVA'S
Suffering HEART ...
What PAIN must that be ...
S.C.
Germany
Comments :
DEAR DEVOTEES, SHRI MATAJI MAHADEV SHIVA CONSIDERS IT TO SHARE THIS PRECIOUS MESSAGE FROM A DEAR DEVOTEE ROMANIA / GERMANY WITH YOU .
THANK YOU DEAR SHRI MATAJI MAHADEV SHIVA
FOR THE DIVINE MESSAGE, HOWEVER SO SAD - THE PAINS YOU UNFORTUNATELY ARE STILL CARRYING , IT HURTS SO MUCH SO MUCH THAT IT DOES NOT STOP - THIS MOST AWFUL SUFFERINGS THAT YOU ARE STILL CARRYING FOR THE ENTIRE MANKIND FOR THE WHOLE WORLD, YOU DEAR SWAMI SAI BABA, DEAR SWAMI JESUS CHRIST, PLEASE, PLEASE PUSH A BUTTON SO THAT MOTHER GOD SHRI MATAJI MEENA SHIVA IS FREE FROM PAINS AND SUFFERINGS !
THE MAJORITY OF PEOPLE ARE SLEEPING IN IGNORANCE AND ARROGANCE AND MOTHER WILL ENDURE SUFFERING FOR SUCH PEOPLE? TILL WHEN?
FORGIVE ME YOU DIVINE KINGS, I AM SO SAD !
MUCH STRENGTH AND MUCH LOVE FOR YOU DEAR MOTHER GOD SHRI MATAJI MEENA MA SHIVA, I LOVE YOU!
M.C.
Romania - Germany
Very soon there will be blessing and lights...
P.M.
India
MAY THE UPCOMING DIVINE DESCENT
OF THE TWO DIVINE KINGS HAPPEN SOON
AND FREE YOU FROM THE UNSPEAKABLE
CARRYING FOR MANKIND.
WITH LOVE, GREAT THANKFULNESS AND HUMBLENESS
M. and H.W.
Germany