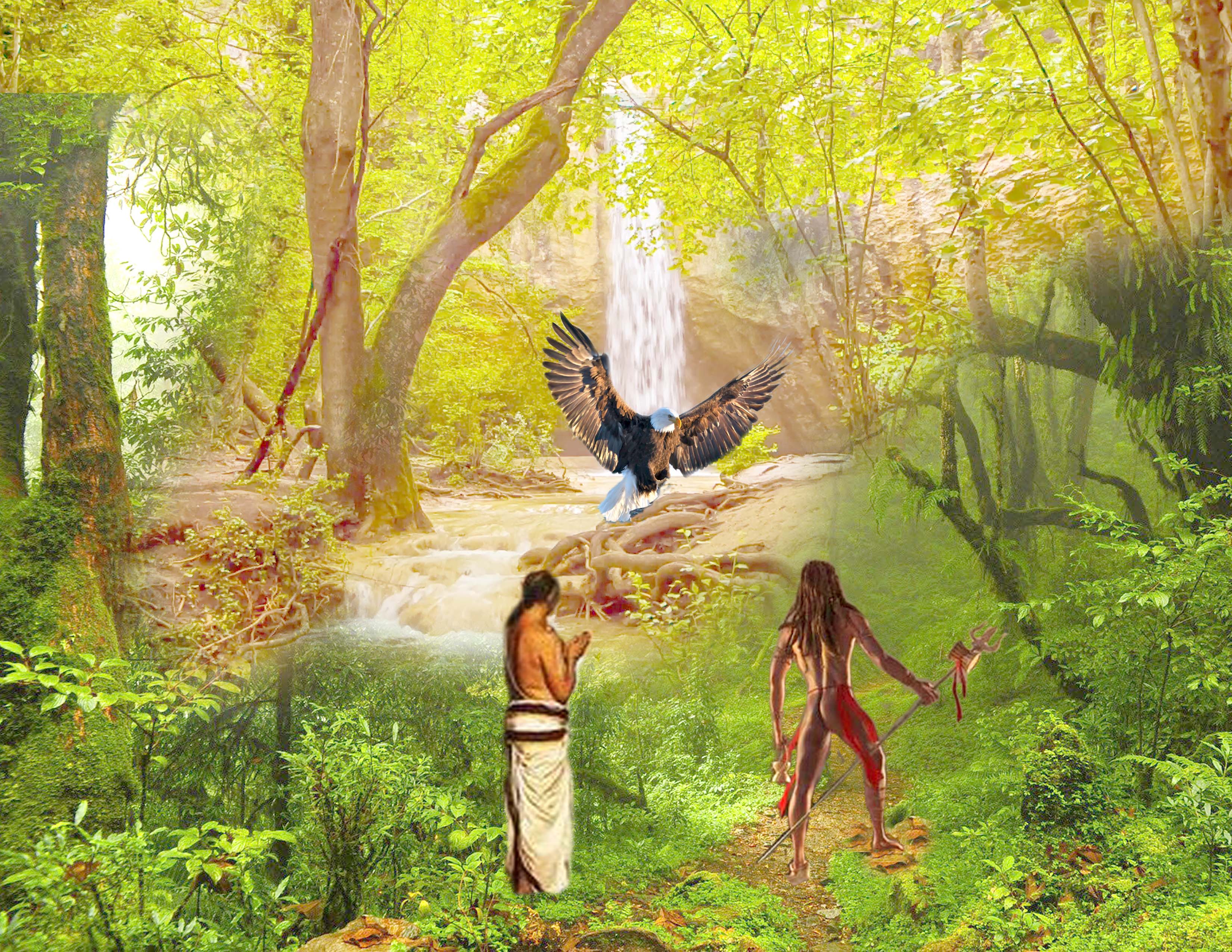 PRANAMS
JAY MAHADEV SHIVA

On 7th December 2018, Mr. Shankarananda
was talking with Aghori Paramesh - surrounded by
dark green TREE BUSHES.
It was very pleasant atmosphere to be near
LORD SHIVA´S premises -
SHRI SAILAM SHIVA TEMPLE

Mainly Aghori was talking about
PARAMA SHIVAM'S illness and body pains -
carried for the whole World.
Suddenly a big breeze came near to
these people`s meeting place.

After couple of seconds one BIG EAGLE
came with big wings and landed slowly
before Aghori and Shankarananda.

EAGLE was looking straight into Aghori's eyes.
Shankarananda wondered.

EAGLE was not really looking like EAGLE.
Its beak was murmuring something.

Aghori was scared and started trembling.

Shankarananda recognised that EAGLE was speaking
something important with Aghori and
he was shaking his head like good listener.

Shankarananda was also scared and
wanted to leave that place.
But Aghori Paramesh warned him and said :
DON'T MOVE from the place where you stand.
Further Aghori spoke :
IT IS NOT EAGLE.
IT IS SHRI MATAJI PARAMATHMA MAHADEV SHIVAM.
SHE DOES NOT LIKE THAT I TALK WITH YOU
AND TELL ABOUT HER HEALTH SITUATION.

SHE SAYS WONDERS WILL HAPPEN VERY SOON
AND YOU HAVE NO RIGHT - AGHORI - TO SPEAK ABOUT
MATAJI PARAMATHMA MAHADEV SHIVAM'S FUTURE

THE WONDER IS :
THE EAGLE WAS SPEAKING
LOUDLY IN HINDI LANGUAGE.
SHANKARANANDA WAS THERE
NEXT TO AGHORI PARAMESH
BUT HE COULD NOT UNDERSTAND
A SINGLE WORD.

Then both realised -
THE EAGLE IS GOD SHIVA
and made in front of EAGLE NAMASHKAAR.*
After a few seconds
DIVINE EAGLE started to fly and
disappeared in the green tree bushes.

Few minutes were gone.
Aghori has no voice anymore !

Then after a while Aghori said :
it is a GREAT EXPERIENCE
for me in this life on this earth.

SHRI MATAJI PARAMATHMA MAHA AVATAR
came in the form as an EAGLE
and warned Aghori.

Finally Aghori said to Shankarananda:
please go and work for PARAMA SHIVAM.
I don't speak anything against PARAMA SHIVAM.

Please go and lead your life happily
with all the DIVINE experiences of PARAMA SHIVAM.

This happened between Aghori and Shankarananda.

SHRI MATAJI PARAMATHMA MAHADEV SHIVAM
allowed this GREAT EXPERIENCE to HER devotees.
JAY MAHADEV
RGR
INDIA
THE EAGLE - please see Facebook and Website
VANAJA`S FIFTH HOLY
DEEP VISION IN HER DREAMS
September 9th, 2018

THIRD DIVINE VISION IN THE DREAM
OF THE HIGHEST PRIEST
SHIVA TEMPLE DEVASTHAANAM
IN NALLAKUNTA, HYDERABAD / INDIA
August 23rd, 2018

*
NAMASHKAAR, also Namastē : Greeting in India
" I AM GREETING GOD IN YOU "
Comments
OM NAMAH SHIVAYA ,
NAMASTE DEAR SHRI MATAJI MEENA MA SHIVA !
THANK YOU FOR THE DIVINE MESSAGE !
IT IS FULL OF HOPE AND BRINGS JOY FOR THE NEW TIME !
HALLELUJA
MUCH LOVE
M-.C.
Romania-Germany
LOVE AND SILENT LOVE AND SILENT PRAYER 4 U MATAJI MEENAJI.
MAY DIVINE LIGHT AND BLESSING EXPAND IN UNIVERSE..
SILENCE IS KNOWLEDGE AND PURE WISDOM.
HAR HAR MAHADEV
P.M.
India