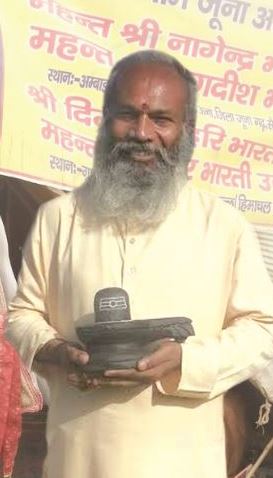 MAHADEV SHIVA`s special PRESENT - MAHA -LINGAM -
the CREATIVE POWER
of GOD for Mankind - transmitted through AGHORIS
on the foothills of HIMALAYA in India -
given to Prathap who is allowed to administer the MAHA-LINGAM
for the time being.
This MAHA - LINGA will find in near future its HOLY PLACE in a MANDIR -
South of India.
This MANDIR will be built by the Devotees for WORSHIP and PRAISE
of MAHADEV SHIVA.
This MAHA-LINGAM will produce most precious HOLY VIBHUTI -
for the BENEFIT of the HELP-SEEKERS.
Months ago, December 30, 2014
already SHRI MATATAJI wrote about the connection of Prathap -
a businessman from Andhra Pradesh - towards SHRI MATAJI MEENA MA.
Prathap who was blessed to receive miraculous VISIONS from
SHRI MATAJI MEENA MA - was allowed to start to materialize.
Always then - when Prathap prayed and is praying to SHRI MATAJI -
and SHRI MATAJI`s INHERENT GODLY MAHADEV SHIVA POWER -
is allowing him to materialize GODLY ITEMS and in this way
to HELP Human Beings.
All these wonderful connections CONFIRM
the GODLY MISSION of
SHRI SWAMI SATHYA SAI BABA and SHRI MATAJI VISHNU, SHRI SWAMI JESUS CHRIST
and SHRI MATAJI MAHADEV SHIVA -
the GODLY Name of SHRI MATAJI MEENA MA ...

With LOVE
Shri Mataji Meena Ma
see:
under Button: RECENT HOLY MESSAGES
SHRI MATAJI MEENA MA`s MIRACLES
December 30th, 2014
combined with GOOGLE / YOUTUBE VIDEO