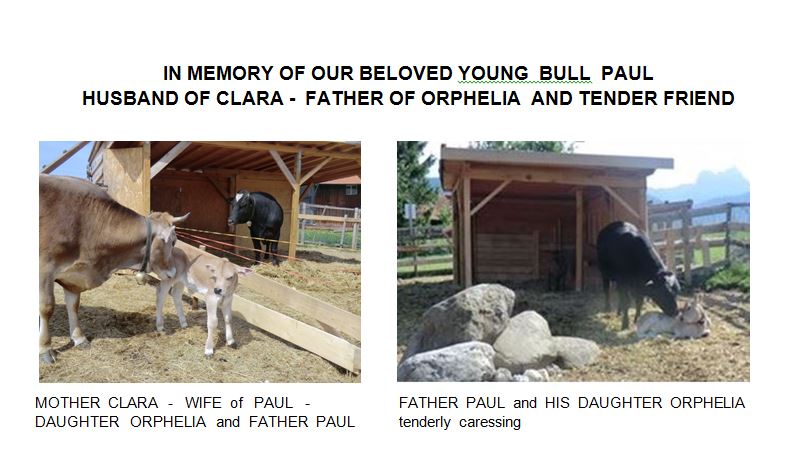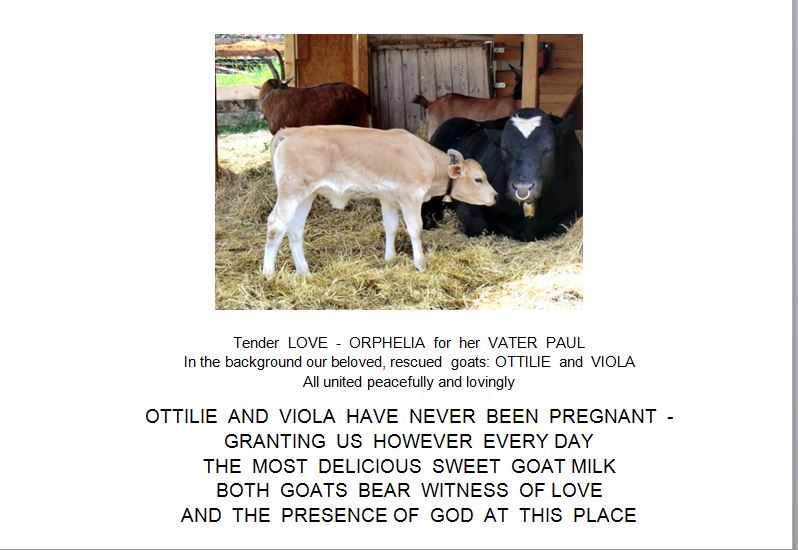 Hope you remember our sweet, gentle and handsome young bull PAUL.
In a dramatic rescue we freed him in autumn 2013
out of a large-scale animal husbandry in the north of Germany, near Hamburg.
PAUL was in fear and TRAUMAS
The more he became confident with his secure home -
SHIVA SHANTI ASHRAM e.V. -
the more he matured happy overcoming his TRAUMAS.
But - all farmers - around him became more and more hysteric.
Most of them hold their cows in narrow cow sheds
not even granting their cows MOTHER EARTH underneath their hoofs,
no sunlight, not knowing if it is day or night time …
We are saving lives of Mother cows already tired
of being used as Birth-Machines
in order to give birth to a calf every year .
Likewise we are rescuing young animals, before human beings decide
to take them to the slaughter -house.
GOD decides when the animals` time has come to go from EARTH
It is totally against GOD`s WILL … to kill animals !
Our animals run free and happy on their pasture lands.
We came more and more into the farmers` focus …
They started to fight against LIGHT - the GOOD -
not wanting that we are doing GOOD
for the BENEFIT of all animals here at our site …
Then 2015 - a helper forgot to close the gatter of the pasture land
for the cows PAUL, CLARA and ORPHELIA
and the two goats OTTILIE and VIOLA
Naturally it was a chance for the animals to take a walk on our site,
passing our pond and walking towards our CHAPEL.
The farmers called the police instead to inform us !
The bells of the animals had given us an indication
that they are roaming freely.
We immediately responded and brought all the animals safe and happy
back to the pasture.
The police and the farmers threatened to shoot
especially our young bull PAUL !
PAUL was already a young, most loving father of his daughter ORPHELIA
and married to a Darling wife called CLARA …
The two goats OTTILIE and VIOLA,
the cock FLORIAN and the hens BERTA, ERNA, HANNA, GERDA and LENA ,
the rescued ducks SERAPHIN and SERAPHINA -
ALL live together in HARMONY and LOVE …
This delightful HARMONY of the animals to each other
became the reason of boycott, hatred and rage …
and especially the human beings started to fight against our sweet friend PAUL …
They have forgotten that formerly in each place there was at least one bull.
People have moved away from the ORIGIN -
the majority of human beings have lost their relationship with NATURE
Do the human beings therefore have the right - to kill?
Three days before CHRISTMAS 2015 - the CELEBRATION of PEACE -
on December 21st,
a Tribunal had been initiated against PAUL tender and sweet …
Ten neighbours, the Chief of Police,
the Chief of Veterinary and the Mayor.
The two Helpers of the SHIVA ASHRAM -
with no chance against the "ABERRATIONS of this WORLD"
The Mayor and all in the world who fought together against our young bull PAUL
gained an apparent "Victory"
The "Victory of the World" is NEVER THE VICTORY OF GOD -
born in and out of LOVE and FORGIVENESS …
Normally I would have been physically present on 21st of December 2015,
however - I am bound onto bed since three years,
therefore it was not possible for SHRI MATAJI to be physically present !
Read MY HOLY MESSAGES in regard to MY TASK -
SHIVA in the HOLY MISSION …
In the proverbial sense SHRI MATAJI MAHADEV MEENA MA SHIVA
is sucking the Poison of Mankind with HER BODY and HER SPIRIT …
High COSMIC Fever - very dramatic bodily pains,
and … and … and …
JESUS CHRIST SPEAKS :
"MY MOST BELOVED MATAJI - IN THIS LIFE YOU ARE ON THE CROSS … "
PAUL - human beings put PAUL in the pillory.
He was exposed to the "MADNESS of this WORLD" -
his sensitive, loving SOUL - his HEART suffered very much …
and with him his Wife CLARA and his daughter ORPHELIA
Not to speak about how it made my HEART bleed :
HATRED, RAGE and FURY are dangerous instruments - they can kill !

A friend from the countryside with the same name PAUL
- an experienced Farmer -
came once a week to take PAUL, his wife CLARA, his daughter ORPHELIA
and our two goats OTTILIE and VIOLA
for a walk with two other helpers of the ASHRAM -
to bring JOY into the hearts of the Animals.
The demands of the "wild human beings" in the Tribunal : CASTRATION !!!
NOT ANYMORE A WALK ON THE PATHS OF THE FIELDS !!!
The arguments of those who in hysteric manners fought with words
against sweet PAUL spoke again about shooting him dead -
if PAUL would leave his pasture …
PAUL the farmer-friend realized my situation and took PAUL to his farmyard
to have the castration done there by a doctor.
The demand of the human beings, the demand of the world
had to be met at any cost under constraints !
12th of January 2016 was the day when an experienced doctor started
to give PAUL the first light anesthetic injection.
PAUL - without any problems - gets tired and lies down to sleep …
Then the doctor sets the actual anesthetic and only one - two minutes later -
PAUL does not breathe any longer …
All attempts at revival are in vain ...
I ask in my letter to the Mayor and all involved:
What is it doing with you who fought against a harmless tender young bull ??
MY HEART - and everybody who PAUL had got close to his heart - a TRAGEDY !!!
Many, many TEARS …
The same day I am sitting together with GOD FATHER - in subtle form -
and know that PAUL is with GOD FATHER and JESUS CHRIST …
PAUL - our young bull and family-father had addressed GOD FATHER
before his GOING HOME pleading:

"Please, FATHER, let me come to YOU -
for two years I have been exposed to HOSTILITIES,
my Soul and my Heart cannot bear that any longer …
Even after my castration they will NOT LET GO their HATRED … "
GOD had MERCY on him -
and took my sweet FRIEND PAUL to HIM …
This tragic incident -
as it should NEVER be between HUMAN BEINGS and ANIMALS
I will proclaim to the World in MY HOLY MISSION
at the side of GOD FATHER and HIS SON JESUS CHRIST …
If the TWO KINGS would have been here already on EARTH
in THEIR HUMAN FORM
it would have turned out differently ...
However, it must be GOOD for ALL -
Human Beings must be emptied -
from ALL WASTE and ALL AGGRESSIONS which they are carrying along
so that a gracious and peaceful NEW BEGINNING can come …
No one can imagine how deeply rooted the MOURNING is
in Paul's wife CLARA and his daughter ORPHELIA ...
Both are restless - CLARA has a cold -
they run restlessly back and forth on the pasture -
Their HEARTS are crying ...
Even the goats are mourning ...
It is as if DEATH is lying upon the entire pasture ...
GOD is about to uplift the heart and soul of our
grieving animals.
May human beings realize how deeply any kind of disregard for life - mentally and physically - will also reach ANIMALS
Huge RETHINKING must and will come ...
When human beings begin to realize what they have done not only to themselves
but also to the animals, and still do,
then they will feel REMORSE
and will weep a lot ...
GOD`s BLESSINGS
Mataji Mahadev Meena Ma Shiva