Middle of March 2015

SAI RAM
Rishis,Yogis and Sadhus in Himalaya carry also the CHEERFUL MESSAGES
in their hearts and announce them:
The DIVINE MISSION of SHRI SWAMI SATHYA SAI BABA,
SHRI SWAMI JESUS CHRIST and SHRI MATAJI MA MEENA
will start soon for the WHOLE WORLD ...
the delays are incumbent on the indefatigable fights of the GODS
against DIABOLISM !!!
The world-embracing, global MISSION of SALVATION of the GODS
will go along with NEW PERSPECTIVES for MANKIND, for the ANIMALS
and for the ENTIRE CREATION !
OM JAI SAI RAM

January 06, 2015
SAI RAM

THERE IS NO DOUBT -
THE GODLY MISSION OF GOD FATHER SHRI SWAMI SATHYA SAI BABA AND HIS SON SHRI SWAMI JESUS CHRIST WILL START FROM THIS PLACE TEMPLE OF LOVE ST. MAGNUS.
WE CAN ONLY IMAGINE WHICH COLOSSAL EVENT - WORLDWIDE - WILL TAKE PLACE:
GOD IN HIS PHYSICAL BODY ON EARTH ...
STILL A LITTLE BIT OF PATIENCE ...



DECEMBER 30th, 2014

"SHRI MATAJI MEENA MA´S MIRACLES"
MORE DETAILS ABOUT THIS VIDEO YOU WILL FIND ON SHRI MATAJI´S HOMEPAGE UNDER BUTTON "RECENT HOLY MESSAGES"

SINCE MONTHS PRATAP IS PRAYING TO SHRI MATAJI MEENA MA
ALWAYS IF SHRI MATAJI MEENA MA IS RESPONDING TO HIS PRAYERS - THEN PRATAP IS BLESSED TO MATERIALISE HOLY MIRACLES FROM COSMOS TO HELP THE SUFFERING ONES: PREPARATIONS FOR THE GREATEST DAY OF THE DAYS
MUCH LOVE SHRI MATAJI MEENA MA

November 25, 2014

SAI RAM, dear friends,

Still I can`t offer to all of us the COSMIC SECRET behind - why there is another delay of SHRI SWAMI SATHYA SAI BABA and SHRI SWAMI JESUS CHRIST … to reveal THEMSELVES in THEIR PHYSICAL BODY …
Be assured the TWO GODS will start THEIR HOLY MISSION on EARTH - DEFINITIVELY - at the RIGHT TIME …

LOVE and LIGHT
SHRI MATAJI MEENA MA

Christmas 2014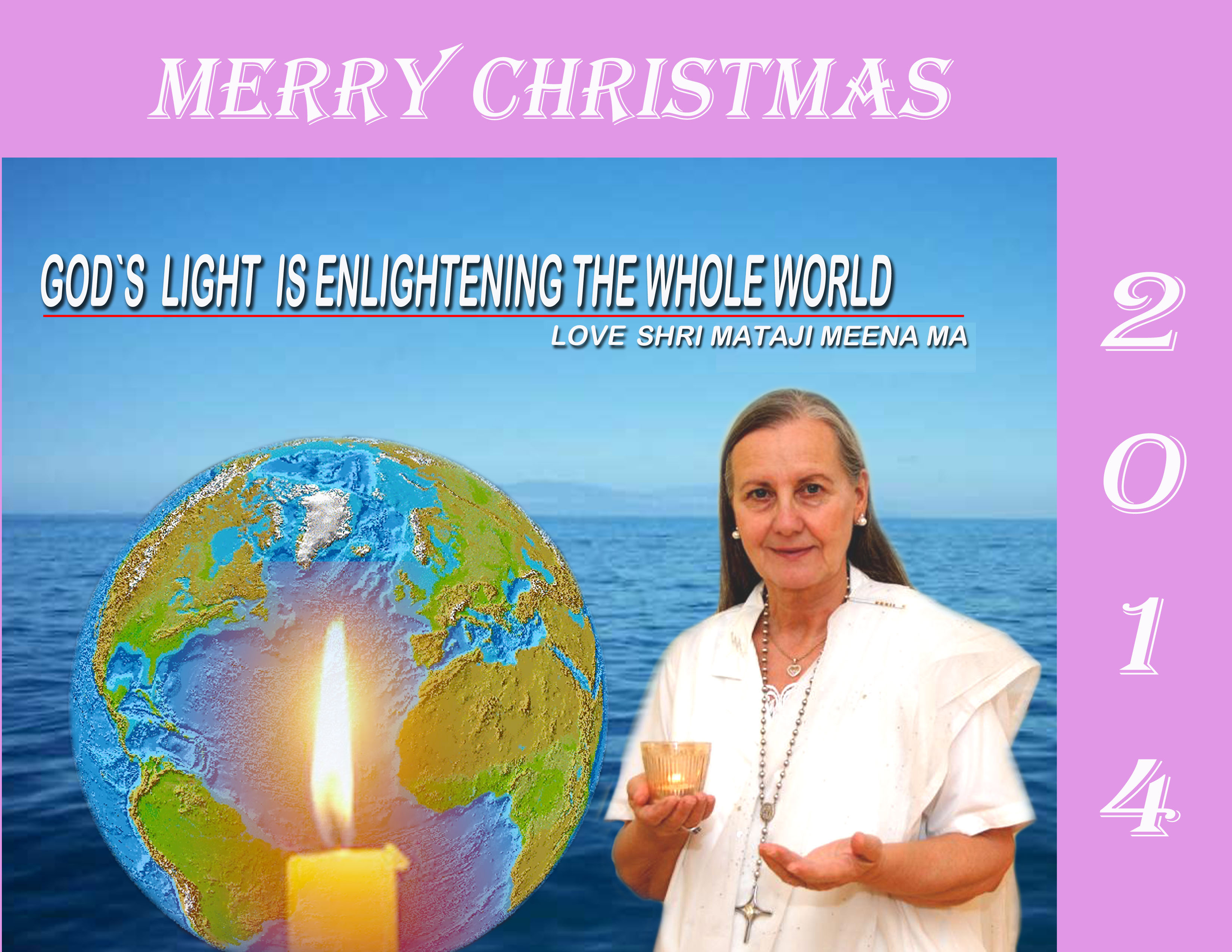 We take part in the all-embracing LIGHT of GOD - which is becoming increasingly stronger and stronger, day by day…

SHRI SWAMI SATHYA SAI BABA and SHRI SWAMI JESUS CHRIST are telling: "This phenomenon of the increasing LIGHT is part of the pre-announcement - GOD coming down on EARTH …"

We may be very very happy because we can count now the days until we are able to WELCOME the TWO GODS in their physical form …

Merge into this HOLY vibration of LOVE and LIGHT and feel already TODAY CHRISTMAS - the new-born baby JESUS CHRIST and HIS FATHER - open your hearts wide …

MUCH LOVE
SHRI MATAJI MEENA MA
October 31,2014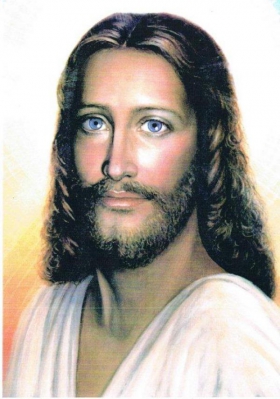 SAI RAM, dear friends,
this image of our BELOVED LORD JESUS CHRIST was given to me from SHRI SWAMI SATHYA SAI BABA years ago.
SWAMI SATHYA SAI BABA explained: "This image of JESUS CHRIST - it does come very close to JESUS CHRIST`S FEATURES after HIS DESCENT from COSMOS."
SWAMI SATHYA SAI BABA further says: "The DESCENT from COSMOS is now very near -
From Friday 17th of October 2014 onwards it can be any day ... the FATHER and HIS SON become FLESH and BLOOD to SAVE and to HEAL this WORLD."

May we all be emerged into GOD´S PROMISE that THE TWO GODS will be no longer as SPIRIT in HEAVEN and on EARTH - we ALL will be part of GOD´S DIVINE PLAN - UNITY - PEACE and LOVE.
May we pray - May we be happy - May we praise GOD`S HOLY NAMES - soon all comes to a CHANGE
Much LOVE TRUST and BLESSINGS
SHRI MATAJI MEENA MA


October 2014
Here at the ASHRAM in Bavaria we have the PROMISE of the TWO GODS SHRI SWAMI SATHYA SAI BABA and SHRI SWAMI JESUS CHRIST that THEIR MISSION will start soon officially.
Also Sreejith Narayan in his book "SAI THY KINGDOM WILL COME" gives evidence that GOD`S PLAN becomes TRUTH - SATHYA!
SHRI MATAJI wants to give to you a hint
www.saikingdom.com
or at facebook account
to dive deeper into the TRUTH of the MESSAGES of LOVE.

August 16, 2014 6:45 pm

SAI RAM dear friends,
SHRI SWAMI SATHYA SAI BABA and JESUS CHRIST are in delay in HEAVEN.
Both SWAMIS will get in contact with you.

LOVING GREETINGS from two BIG HEARTS

SAI BABA and JESUS CHRIST

In LOVE
SHRI MATAJI MEENA MA

WHITSUN, June 08, 2014

SHRI SATHYA SAI BABA and JESUS CHRIST have shown themselves to guests, helpers and employees of the TEMPLE OF LOVE "ST. MAGNUS" in the last months a few times, people have been BLESSED to see the GODS and talk to THEM.
The preparations for the GREAT DAY OF THE DAYS are in full speed. The COSMIC PLAN is :
GOD FATHER and GOD SON will RENEW and continue THEIR MISSION in the WORLD in THEIR physical form from this place "ST MAGNUS" : LOVE and PEACE -
HEALING for HUMAN BEINGS and ANIMALS and the whole CREATION !
COLOSSAL MIRACLES WILL HAPPEN.
BETHLEHEM at that time -
and TODAY and NOW ... starting here ...

In LOVE and GREAT JOY

SHRI MATAJI MEENA MA
May 1,2014
THE GOLDEN AGE THE CHANGE WILL OCCUR IN THESE DAYS!
ALL OF YOU PLEASE GO INTO PRAYER AND INTO FORGIVENESS.
THE LIGHT OF PEACE WILL BE ENLIGHTENED THROUGH SWAMI SAI BABA FOR THE ENTIRE COSMOS INCLUSIVE THE PLANET EARTH AND THAT WILL BE LIKE THAT FROM NOW ON TILL ALL ETERNITY IN YOUR HEART AND IN THE COSMOS!
IN LOVE SAI BABA and JESUS CHRIST
AMEN
JESUS CHRIST SAYS: I WILL COME SOON !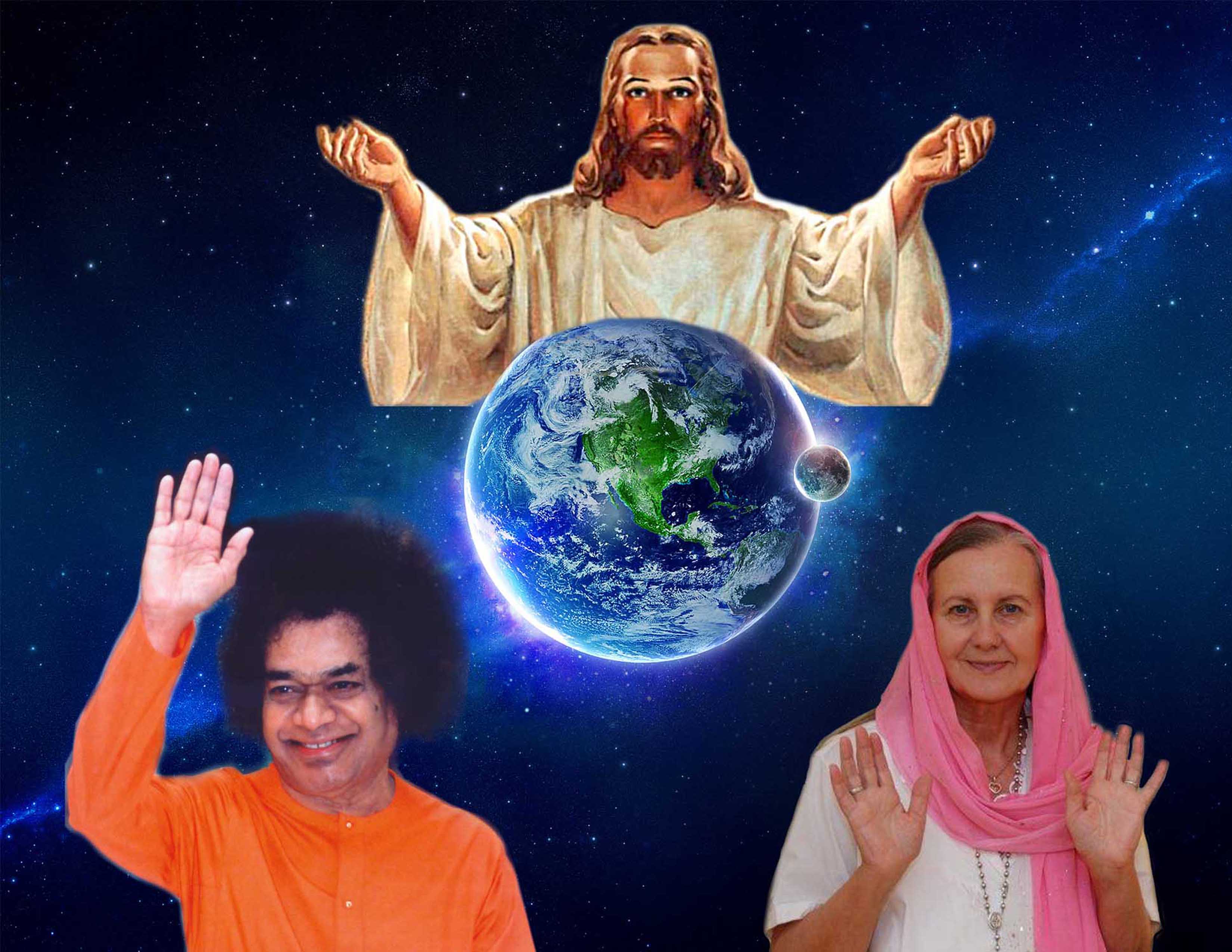 SAI RAM dear friends
Believe in the LORDS of the LORDS

EASTER 2014

and NOTHING will be as it has been before!

LOVE to all of you for a special unique EASTER 2014
SHRI MATAJI MEENA MA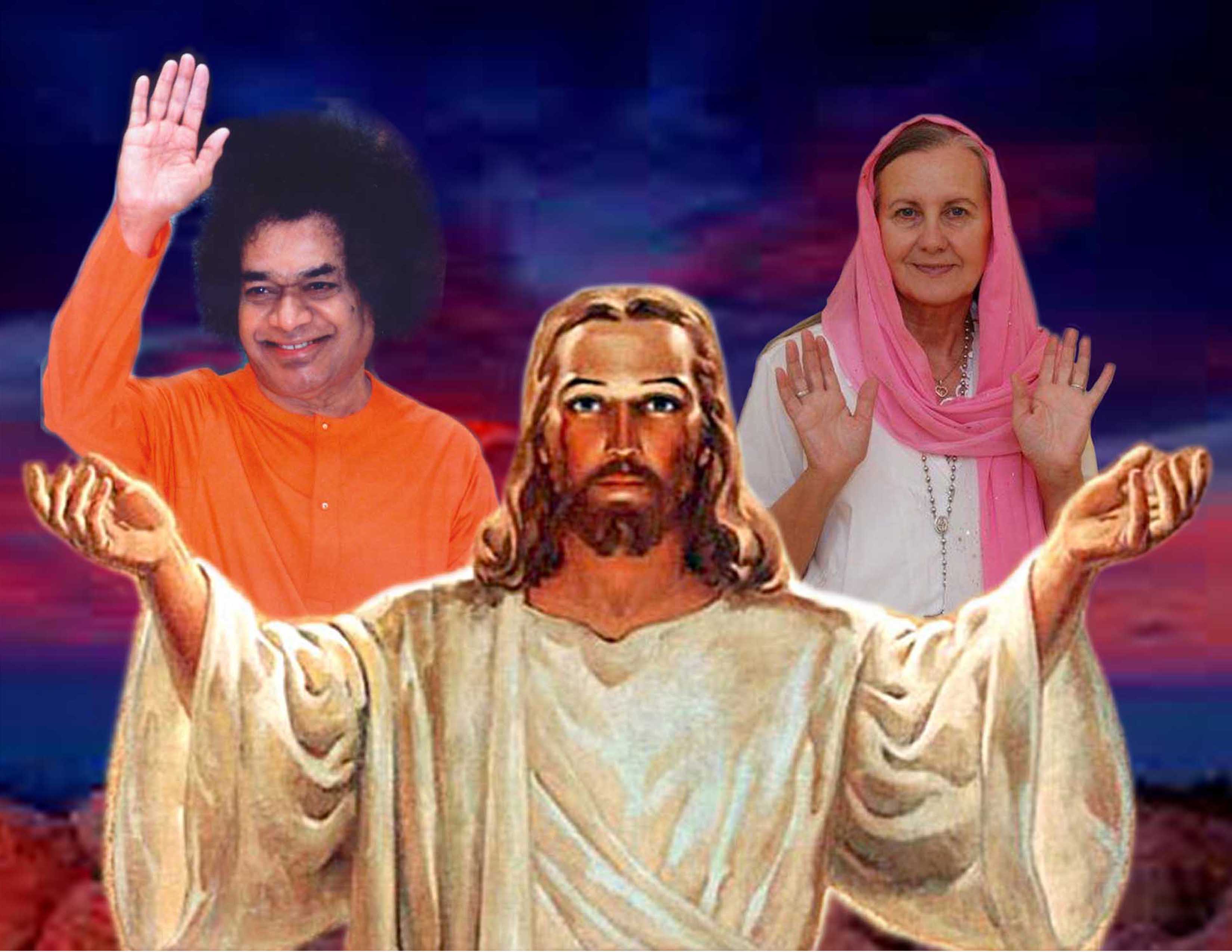 April 10, 2014
How much hearts will be touched

MIRACLE of MIRACLES ... HEALING of HEALINGS ...

Oh Wondrous - Wonderful EASTER TIME!

GOD FATHER and HIS SON are ready to save the world, the creation, human beings and animals - the official GOLDEN AGE begins!

RE-SURRECTION and GOD will show HIMSELF in flesh and blood on earth

The time is ripe - the time has come ...

LOTS OF LOVE
Shri Mataji Meena Ma

Sense the increasing JOY in your hearts
Beginning of April 2014


The latest MESSAGE of JESUS CHRIST may be read under RECENT HOLY MESSAGES
March 26, 2014
SAI RAM dear friends

Middle of March 2014 - now the time has arrived to announce there are four GODS leading in SELFLESS SERVICE
the NEW GOLDEN AGE into REALIZATION:

SALVATION and HEALING of MANKIND and ANIMALS and the entire DIVINE CREATION -

SHRI SWAMI SATHYA SAI BABA and JESUS CHRISTUS -
HIS name is SHRI SWAMI PREMA ANANDA and two other GODS

All prophecies are being manifested.

In LOVE
Shri Mataji Meena Ma


March 9, 2014
If you want your heart to be touched, you are invited to read the latest message - March 2014 -
under RECENT HOLY MESSAGES



END of JANUARY 2014
THIS WILL BE THE OFFICIAL GLOBAL VISION WHEN GOD FATHER SHRI SWAMI SATHYA SAI BABA AND HIS SON JESUS CHRIST SHOW THEMSELVES TO MANKIND

BOTH DEITIES APPEAR AT THEIR BEST AGE
VERY SOON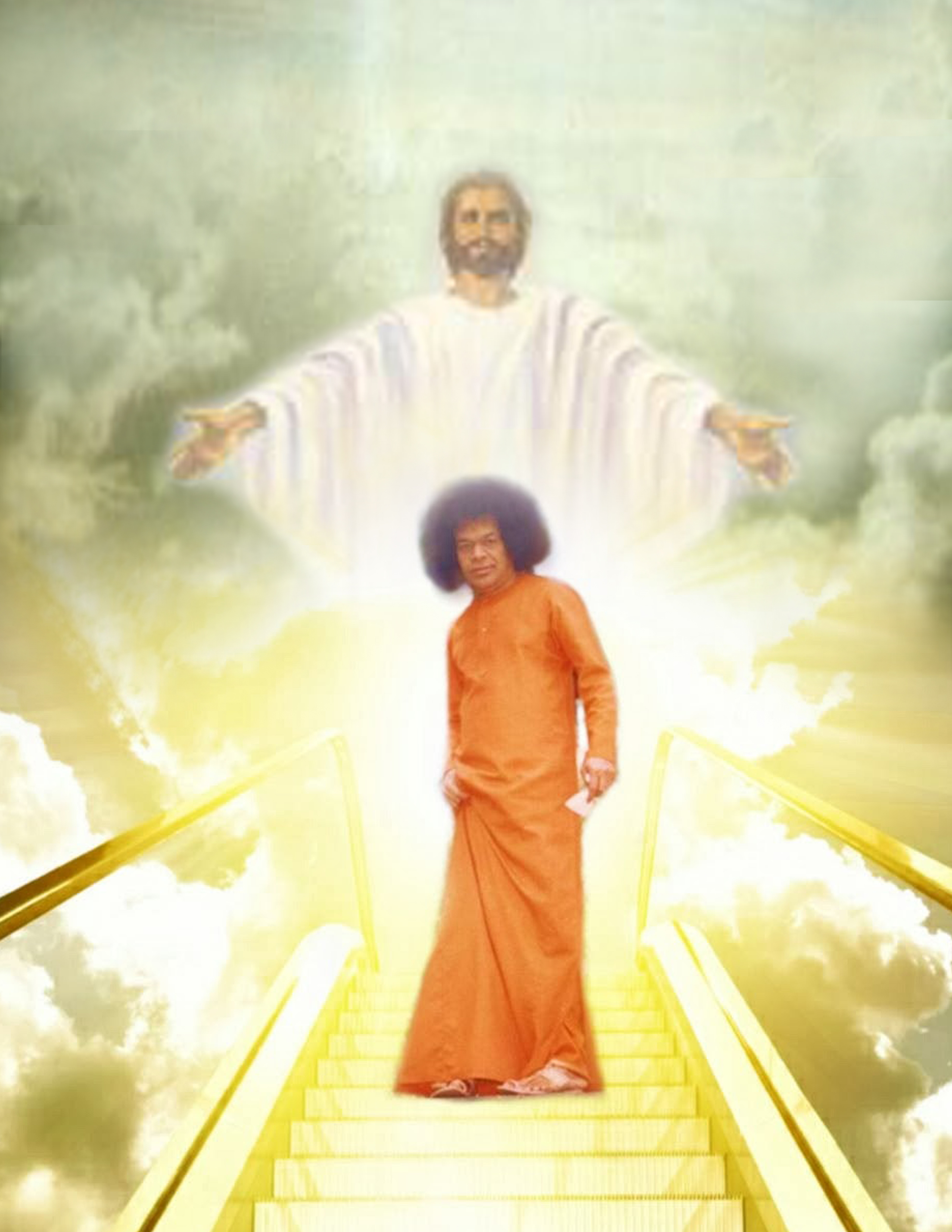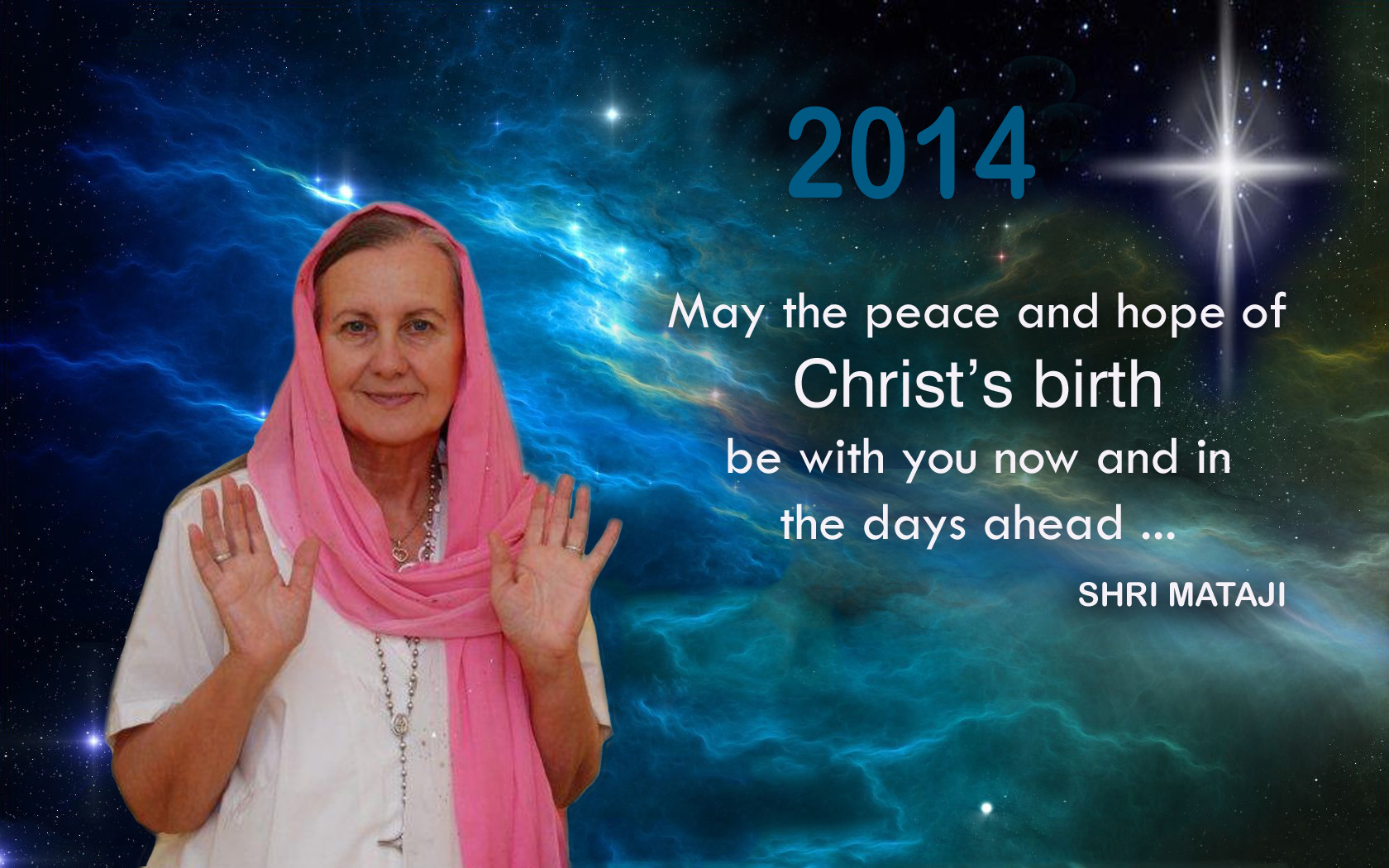 THE FIRST DARSHAN
OF THE GODS TOGETHER
WILL BE
IN "PRASHANTI NILAYAM"
IN PUTTAPARTHI, INDIA


Mid-January 2014
It might not be understandable for some souls why the colossal GODLY COSMIC PLAN for the GOLDEN AGE requires still a little bit of patience ...

The Announcements of the GODS will go along with the world-embracing MIRACLE that some NIGHTS will become into DAYLIGHT and the constellation of the PLANETS: JUPITER SUN and MOON will be in one line towards the EARTH
And mankind must be prepared so far that they let touch their heart by the GREATNESS and UNIQUENESS of the GODLY COSMIC PLAN.
The GODLY PLAN is definitive !
Soon – very soon – we shall take part in it !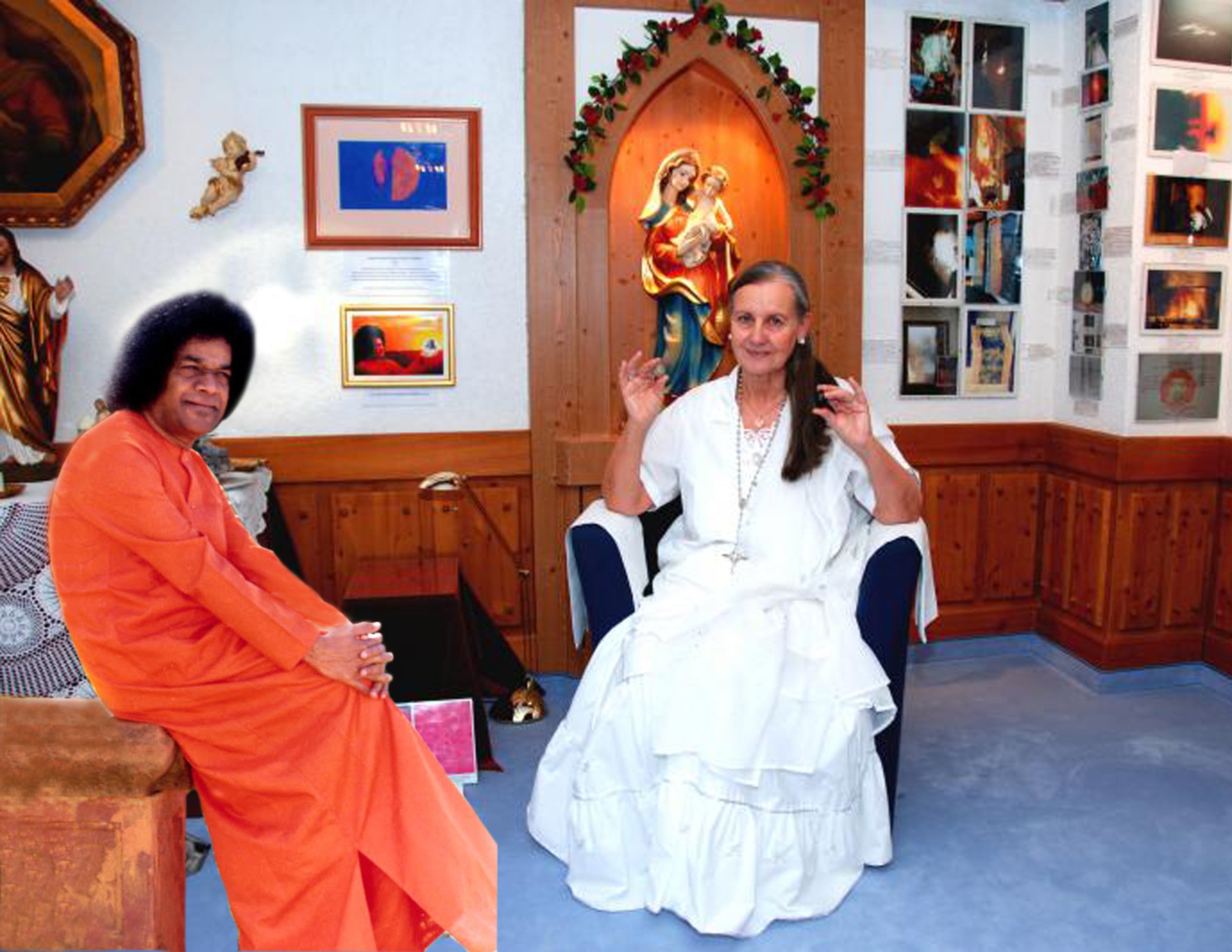 SHRI SWAMI SATHYA SAI BABA and SHRI MATAJI MEENA MA
the DARSHAN-ROOM of the TEMPLE of LOVE in the south of Germany.
"ST.MAGNUS" in Eisenberg-Unterreuten
SHRI MATAJI MEENA MA`S NEXT DARSHAN

WlLL TAKE PLACE FIRST IN INDIA !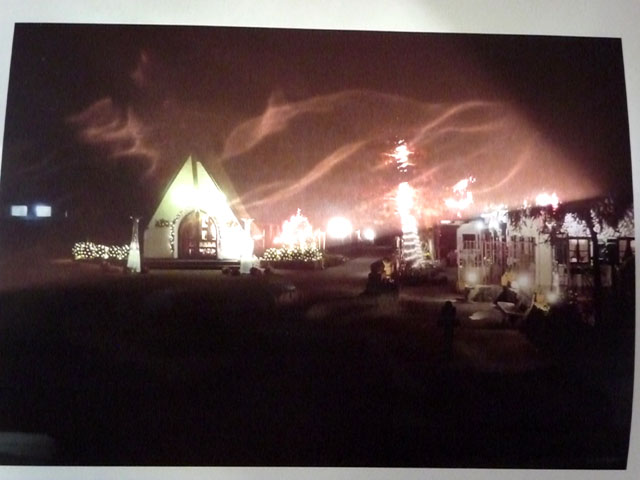 HEAVEN OPENS UP

Middle of December 2013

This VISION that GOD reveals to us pictorially in advance, may serve to prepare the first major MIRACLE of the GODS -
THE SKY THAT IS OPENING !
After the tremendous LIGHTENING without thunder will be revealed to mankind,
GOD will turn the night into day light - for many days.
Even there are time differences throughout the world, the GODLY MIRACLES will be seen all over the world.
GOD has promised in many of HIS HOLY MESSAGES the MIRACLES will start here in Germany in HIS chosen place TEMPLE OF LOVE "ST. MAGNUS" near the Alpes.
Just dive into the HOLY MESSAGE given to us in form of this photo: SHRI SWAMI SATHYA SAI BABA and SHRI SWAMI PREMA ANANDA JESUS CHRIST will start THEIR official MISSION on the planet EARTH in the GOLDEN AGE by then.
The planet JUPITER, the SUN and the MOON will touch the planet EARTH by then in one line.
Streams of LIGHT and LOVE are unfolding in the horizon of the opened HEAVEN.
Above our CHAPEL at the left side two letters are floating: "M" and "A" - MA - read from bottom to top. MA stands for the DIVINE MOTHER.
The spiral of LIGHT that winds around the long stem of the pine tree to the right of the CHAPEL is at the same time an imposing large "i".
Further to the right of the "i" there is a radiant "S" on the horizon
and at the far right we may perceive an "A" full of LIGHT: "ISA".
JESUS CHRIST also was called ISA during HIS lifetime.
SAI and ISA have the same stem of letters.
Middle of November 2013
The first great MIRACLE will be:
A colossal lightning will alighten the planet earth–
without thunder! The night will be bright as day-time

The sky will be opened and GOD will be seen
All over on this planet earth this enormous greatest
MIRACLE will be seen and experienced for many days.


RECENT NEWS and NEW HOLY MESSAGES
October 2013

Every day we are blessed to take part in the deep MESSAGES of SHRI SWAMI SATHYA SAI BABA and
HIS SON SHRI SWAMI PREMA ANANDA JESUS CHRIST.


You may read selected HOLY MESSAGES – partly whole or in excerpts - under the button LATEST HOLY MESSAGES.

STILL THE DEITIES WORK IN SILENCE and in THE HIDDEN.

SHRI SWAMI SATHYA SAI BABA, SHRI SWAMI PREMA ANANDA JESUS CHRIST and SHRI MATAJI MEENA MA WILL SOON DECLARE OFFICIALLY THEIR MISSION FOR THE GOLDEN AGE ON THIS PLANET EARTH.

HOLY MESSAGE of JESUS CHRISTUS on September 28, 2013

JESUS CHRISTUS speaks

Your hearts are blessed - blessed by MY Father who sent ME to EARTH more than 2000 years ago to shower BLESSINGS into your hearts!

MY LOVE is so immense, so immense for the OPENING of your hearts! Open your hearts wider and extend them - MY HEART, MY LOVE is still sufficient for your hearts.
Every living being is blessed by MY LOVE!
Pause
Do not crucify yourself!
Now is the time of RESURRECTION - the little chick who has appeared in the MOON!

Please see the MOON-Series under Button "SHRI SATHYA SAI BABA and the MISSION of SHRI MATAJI MEENA MA":
on September 26 and 27, 2010 "TRANSFORMATION in the MOON", when GOD granted the direct revelations to SHRI MATAJI MEENA MA.
Part of mankind had to go – that was the dark side that you had carried with you.
But when the CHILD is being born, it remains unharmed – and everything else may go. The MOTHER has the power and the FATHER as well and the CHILD needs a lot of LOVE!
Show LOVE to yourself! The only matter that grants you GROWTH is LOVE - to yourself, to every one and to all of you!

You are in the MATTER, you can take something into your hands, you can touch - with LOVE!

Give GROWTH to others by your LOVE, through your touch!
When seeing ME in near future in MY physical form on EARTH, I will be living with you as a normal human being and I will be EXAMPLE for you – with MY WIFE MATAJI MEENA MA!

I will sing with you, play with you, laugh with you and I will show you the way to GROWTH - and this is MY LOVE that I can announce to you!

I do not have COSMIC children - you are MY children!
I AM very similar to MY FATHER, and MY FATHER also has great humour.
MY HEART is full of joy when I feel that you are growing!
GROWTH is an important point!
The more you grow, the more you have lots of JOY and LOVE in yourself, because you can carry more!
The more you grow, the bigger is JOY and LOVE!
Do not be content with a single sip of water, go to the OCEAN of LOVE and TRUTH!
Do not become small – you are not small, you are big - because the FATHER has given you a big heart.
This big HEART is LOVE and you can never love enough!
LOVE gives POWER, LOVE is our ESSENCE!
If it is not like that, we have stopped our TRANSFORMATION!
MUCH LOVE and JOY with MY WIFE
for you and lots of BLISS for MANKIND!
AMEN
JESUS CHRISTUS